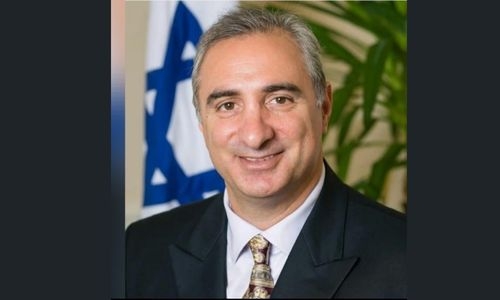 Israeli Ambassador to Bahrain hopes to attract other countries to Abraham Accords
TDT | Manama
The Daily Tribune – www.newsofbahrain.com
Report by Julia Cassano
Israel's Ambassador to Bahrain, Eitan Na'eh, has identified trust, partnerships, and relationships as the most significant achievements of the Abraham Accords signed in 2020, which he said: "will continue to progress in time".
In an exclusive interview with The Daily Tribune, Na'eh also expressed his hopes of attracting more countries to join the Accords and stressed the need for both Bahrain and Israel to create roadmaps and leverage their strengths to achieve common goals.
The ambassador further emphasised the importance of discovering solutions together and opening new markets for each other.
Effective, since, September 15, 2020, the Accords is a series of joint normalisation statements initially between Israel, the United Arab Emirates, and Bahrain.
Morocco and Sudan joined later in 2020 and 2021, respectively. Highlighting the ties with Bahrain, he said: "Other countries will look at the success produced between us through cooperation, and desire for the same."
"Creating roadmaps and combining strengths" will be key to achieving this, he said. He also stressed the need to determine contrasting strengths to achieve success and prosperity between Bahrain and Israel.
According to Na'eh, the potential opportunities between the two countries are vast, particularly in the areas of trade, tourism, investments, and partnerships.
"More progress and accomplishments will unveil as we continue to learn more about each other, our people, and our economies," Na'eh added.
He revealed that programmes to exchange students and experts will be set up to benefit both nations.
Na'eh also stressed the need to focus on improving trade, tourism, investments, deals, and partnerships.
"We should aim to expand specific centres of excellence, where we can share different technologies and develop them together," he said.
The ambassador emphasized the need to "open your mind and open your heart" and stated that "seeing is believing." Encouraging traffic between both countries, both in trade and tourism, will be critical for people-to-people relationships to develop, Na'eh said.
"For people-to-people relationships to develop, they need to understand each other and work together to promote diverse and integrated societies," he added.
"This will help both countries 'partner together to create advanced ideas, technology, and solutions for the future."
Na'eh concluded by emphasizing Bahrain and Israel's potential to collaborate and create innovative ideas, technology, and solutions for the future.