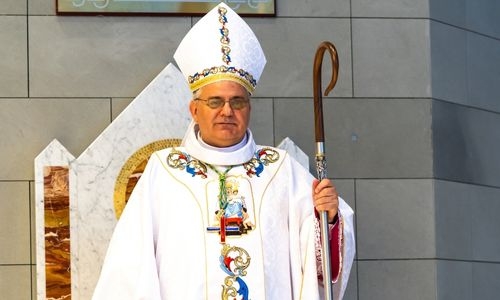 Bishop Aldo Berardi is new Apostolic Vicar of Northern Arabia
TDT | Manama
The Daily Tribune – www.newsofbahrain.com
The Holy Mass at the Cathedral of Our Lady of Arabia in Awali yesterday witnessed the Episcopal Ordination and installation of Msgr. Aldo Berardi O. SS. T. as the new Apostolic Vicar of Northern Arabia.
He succeeds Camillo Ballin, who served as the Apostolic Vicar from 2011 to 2020.
Cardinal Miguel Angel Ayuso Guixot, the Prefect of the Dicastery of Interreligious Dialogue of the Holy See, led the ceremony as the principal consecrator.
Archbishop Eugene Nugent, the Apostolic Nuncio to Bahrain, Kuwait, and Qatar, and Bishop Paul Hinder, the Apostolic Administrator of Northern Arabia, joined as co-consecrators in ordaining Bishop Aldo to the episcopacy.
Other bishops who participated in the liturgy were Bishop Paolo Martinelli, the Apostolic Vicar of Southern Arabia, Bishop Claudio Lurati, the Apostolic Vicar of Alexandria in Egypt, Bishop Jean-Pierre Vuillemin, the Auxiliary Bishop of Metz, and Bishop Joseph Naffah, the Patriarchal Visitator of Maronites in the Arabian Gulf.
Additionally, 80 priests, several religious sisters, and approximately 2,500 faithful attended the celebration, including several members of the Trinitarian Order to which Bishop Aldo belongs.
Msgr. Berardi's appointment was announced by Pope Francis on 28 January 2023 in Rome.
Bishop Aldo Berardi will hold a Mass of thanksgiving at the Sacred Heart Church in Manama on 19 March at 5:30 pm.