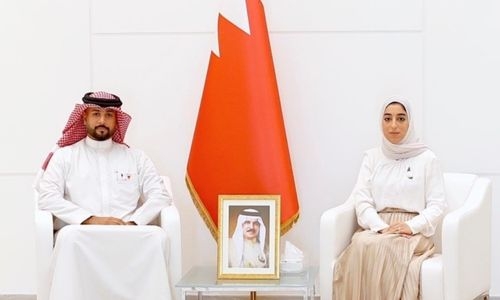 Support vow for public and private sectors partnership
TDT | Manama
The Daily Tribune – www.newsofbahrain.com
It is important to sustain the public and private sectors partnership to achieve the goals of the Tourism Strategy 2022- 2026.
This was emphasised by Tourism Minister Fatima bint Jaffar Al Sairafi who affirmed the major role played by tourism establishments in boosting this important sector in the Kingdom of Bahrain.
While receiving the Chief Executive Officer of the Southern Tourism Company, Yousef Khalifa Al Manea, Al Sairafi renewed the support of the Ministry of Tourism for all tourism establishments in the Kingdom to enable them to improve their performance work and achieve their goals.
The Minister encouraged them to diversify the tourism product in a way that contributes to enhancing the competitiveness of the sector as a whole and attracting more tourists and visitors to Bahrain.
Al Sairafi highlighted the keenness of the Tourism Ministry and the Bahrain Tourism and Exhibitions Authority (BTEA) to develop work paths with the private tourism sector establishments, as well as provide them with all necessary facilities and hold periodic meetings to listen to their views.
Al Manea affirmed the company's keenness to work within the framework of the national strategy to develop the tourism sector as a whole in the Kingdom, and to achieve the aspirations of the Tourism Ministry to increase the contribution of the private sector establishments in providing an innovative product that meets the needs of citizens, residents, tourists and visitors.