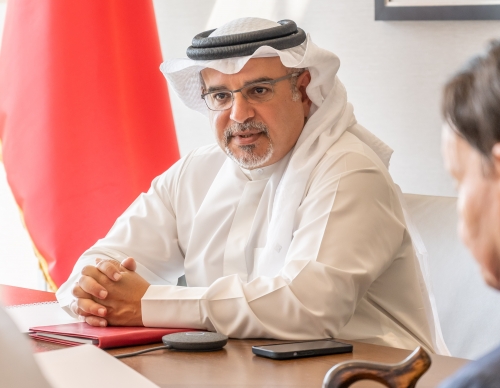 Bahrain committed to providing quality opportunities for citizens
TDT | Manama
The Daily Tribune – www.newsofbahrain.com
The Deputy King, His Royal Highness Prince Salman bin Hamad Al Khalifa, has highlighted Bahrain's commitment to enhancing competitiveness and providing quality opportunities for citizens, in line with Bahrain's comprehensive development, led by His Majesty King Hamad bin Isa Al Khalifa.
HRH the Crown Prince and Prime Minister expressed pride in Team Bahrain and affirmed the importance of their responsibility to continue the Economic Recovery Plan's implementation and achieve economic sustainability and fiscal balance.
This came as HRH Prince Salman yesterday chaired the Economic Development Board (EDB) Board of Directors Meeting to review the developments of the Economic Recovery Plan and the latest economic indicators.
During the meeting, the Board reviewed the Economic Recovery Plan's progress and the Kingdom's positive economic indicators. His Royal Highness commended Team Bahrain's determination to improve the Kingdom's economy and the importance of economic diversification and connecting with the global economy.
He praised the EDB for attracting direct investment, creating opportunities for citizens, and strengthening the Bahrain's position as an investment destination and an attractive business centre. His Royal Highness noted that Bahrain's Economic Vision 2030 fosters cooperation between the public and private sectors.
The Deputy King highlighted the importance of developing policies and legislation that supports private sector growth, given its role as a major driver of economic growth and enhances development opportunities.
Developments
During the meeting, the Minister of Cabinet Affairs, HE Hamad bin Faisal Al Maliki, presented the Economic Recovery Plan's latest developments. The presentation showed that 17 of the 27 Economic Recovery Plan programmes are complete.
This includes creating quality job opportunities to ensure citizens are the first choice in the labour market, facilitating commercial procedures and increasing their effectiveness, implementing major development projects, developing promising sectors, and achieving financial sustainability and economic stability by achieving fiscal balance by 2024.
Q2 financial statistics show that the Economic Recovery Plan has contributed to remarkable economic growth during the second quarter of this year, as Total Real GDP grew by 6.9%, the highest annual increase since 2011.
The Hotel and Restaurant Sector recorded the highest growth rate out of non-oil sectors (18.1%), followed by transportation and communications (15.1%), manufacturing (7.6%), and trade (7.5%).
The implementation of the Economic Recovery Plan has led to positive growth in the non-oil economic sectors. The Chief Executive of the EDB, Khalid Ebrahim Humaidan, outlined the EDB's success in attracting investment, with the volume of inwards investment up to 2021 totalling U$33.5 billion, equivalent to 86% of the Kingdom's GDP, exceeding the global average of 47%. Humaidan confirmed the EDB successfully attracted $921 million in direct investment from 66 projects, over 90% of the $1 billion target set by the Board of Directors.