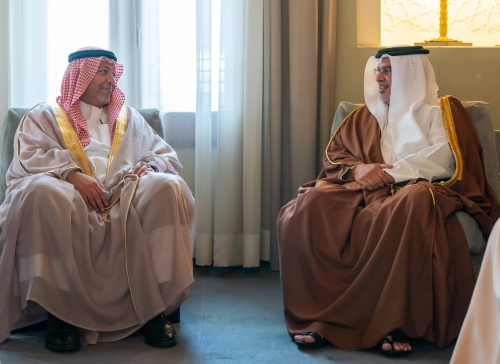 Judiciary plays a key role in strengthening fairness: HRH Prince Salman
TDT | Manama
The Daily Tribune – www.newsofbahrain.com
His Royal Highness Prince Salman bin Hamad Al Khalifa, the Crown Prince and Prime Minister, has highlighted the role of Bahrain's judiciary in further strengthening fairness as a major pillar for safeguarding rights and achieving the Kingdom's comprehensive development, led by His Majesty King Hamad bin Isa Al Khalifa.
He affirmed the importance of continuing to advance the judiciary by adopting wide-ranging initiatives that improve the efficiency of procedures, in line with the Kingdom's development goals.
HRH Prince Salman was speaking as he received yesterday the Vice President of the Supreme Judicial Council and President of the Court of Cassation, Shaikh Khalid bin Ali Al Khalifa, at Riffa Palace. His Royal Highness congratulated Shaikh Khalid on his appointment to his post, wishing him every success in his role.
HRH the Crown Prince and Prime Minister noted the important role of the Supreme Judicial Council in strengthening the rule of law and protecting rights and freedoms, which are fundamental commitments to upholding judicial integrity.
He commended the constructive cooperation between the executive, legislative and judicial authorities, and noted the importance of building on their ongoing successes, which serve as the bedrock of the Kingdom's advancement and development, in line with the visions of HM the King.
Shaikh Khalid expressed his gratitude for the opportunity to meet with His Royal Highness and noted his continued support of the Kingdom's judiciary, which is central to Bahrain's ongoing development. Finance and National Economy Minister Shaikh Salman bin Khalifa Al Khalifa and the Minister of Cabinet Affairs, Hamad bin Faisal Al Malki, also attended the meeting.