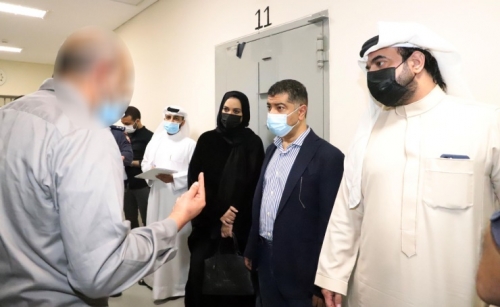 Inmates' Ashoora rituals go 'smoothly and freely'
TDT | Manama
The Daily Tribune – www.newsofbahrain.com
The Ashoora Commemoration in the reform and rehabilitation centres went smoothly and freely. This assessment was made by a delegation from the Council of Commissioners at the National Institution for Human Rights (NIHR), led by Ali Ahmed Al Derazi, after they visited the Jau Correction and Rehabilitation Centre and the Dry Dock Detention Centre for several days.
During the field visits, they were informed about the organisational measures that were taken in the centres to enable inmates to practise their religious rites during the Ashoora Commemoration.
They were made in a manner that does not prejudice the security and safety of the inmates, on the one hand, and does not constitute harm or infringement of the freedom and privacy of other inmates from other religions and sects, on the other.
At the outset of the visits, the NIHR's delegation held extensive meetings with the centres' officials, who briefed it about the regulations in place during the Ashoora Commemoration. They toured the centres' buildings and wards, where they met some inmates, chosen randomly, and asked them about their remarks regarding their living conditions, in general, the extent to which they enjoy the freedom to perform their religious rituals, in particular, in addition to their health conditions and the treatment they receive.
The delegation was also briefed on the facilities provided by the Centres' managements, which enabled the inmates to perform their religious rites comfortably in all the buildings they visited on time and in accordance with the provisions set by the Reformation and Rehabilitation Law and its executive regulations.
It also watched the recordings of the buildings' security cameras which indicated that everything went on normally. The NIHR's delegation's visits revealed that the freedom to practise religious rites and perform worship is guaranteed for inmates, as the managements of the centres provided designated places with sufficient space for performing worship and practising religious rites collectively and commensurate with the number of inmates.