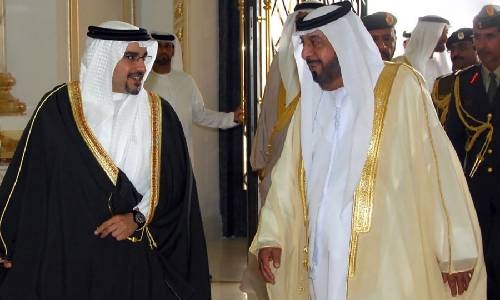 'A leader of great wisdom'
TDT | Manama
The Daily Tribune – www.newsofbahrain.com
Bahrain leaders, Royal Family members, ministers and top officials yesterday condoled with the leaders and people of UAE on the sad demise of Sheikh Khalifa Bin Zayed Al Nahyan, the United Arab Emirates President.
In a condolence message, His Majesty King Hamad bin Isa Al Khalifa said the late President has dedicated his life to serving his country and the Arab and Islamic nations, as well as the entire humanity.
"We extend our deepest condolences to the UAE, following the passing of His Highness Sheikh Khalifa bin Zayed Al Nahyan, a leader of great wisdom who devoted his life to public service, his nation and his people," His Royal Highness Prince Salman bin Hamad Al Khalifa, the Crown Prince and Prime Minister, wrote on his Instagram page.
Three-day mourning
At the order by His Majesty King Hamad bin Isa Al Khalifa, Bahrain's Royal Court extended condolences to the Al Nahyan family and the UAE people, praying to Allah the Almighty to bless the deceased with mercy and rest his soul in vast paradise.

The Royal Court also declared official three-day mourning, during which flags in Bahrain will fly at half-mast. His Majesty the King also directed all the mosques in the Kingdom to perform the absentee funeral prayer (Salat Al-Ghaib) for Sheikh Khalifa bin Zayed Al Nahyan, the late President of the UAE. Imams will perform the prayers after the noon (Al-Dhuhr) prayer today.