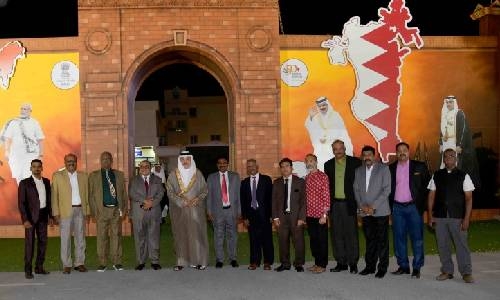 Labour and Social Development Minister hail Bahrain-India ties
Agencies | Manama
The Daily Tribune – www.newsofbahrain.com
Labour and Social Development Minister, Labour Market Regulatory Authority Chairman, Jameel bin Mohammed Ali Humaidan opened the ceremony which was organized by The Bahrain Keraleeya Samajam (BKS) marking the 75th anniversary of its establishment in the Kingdom.
The event was also attended by Indian Ambassador to the Kingdom of Bahrain Piyush Srivastava, Club's President PV Radhakrishna Pillai and other officials.
The minister hailed deep-rooted historic relations binding the two countries, stressing Bahrain's keenness, led by His Majesty King Hamad bin Isa Al Khalifa, with the support of His Royal Highness Prince Salman bin Hamad Al Khalifa, the Crown Prince and Prime Minister, to further expand cooperation across all fields.
He said tha the establishment of Bahrain Keraleeya Samajam (BKS) reflects the social and labour role played by the Indian expatriate community in the Kingdom of Bahrain.
BKS President PV Radhakrishna Pillai thanked the minister for his participation in the celebration, stressing strong historic relations binding the Kingdom of Bahrain and Republic of India.