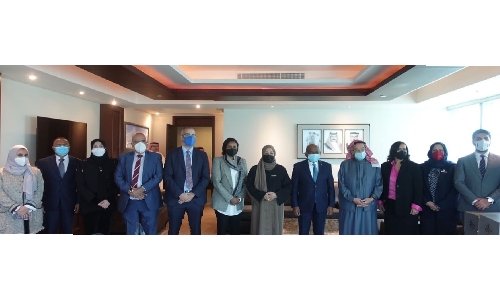 Top UN official highlights Bahrain's effective measures to cushion negative impact of pandemic
TDT | Manama
The Daily Tribune – www.newsofbahrain.com
Bahrain's experience in dealing with the pandemic and its success in preventing the spread of the coronavirus (COVID-19) has been commended by a top United Nations official, who is currently on a visit to the Kingdom.
Abdulla Shahid, United Nations General Assembly (UNGA) President and Maldives Foreign Affairs Minister, highlighted the Kingdom's implementation of the necessary precautionary measures, as well as launching the appropriate social and economic initiatives.
He praised the country's early response to the pandemic, through adopting an integrated policy that has taken all aspects into account.
Supreme Council for Health (SCH) President and National Medical Taskforce for Combatting Coronavirus (COVID-19) Chairman, Lieutenant-General Dr Shaikh Mohammed bin Abdulla Al Khalifa, yesterday received Shahid and his accompanying delegation.
He congratulated Shahid on his presidency of the current session of the UNGA, wishing him every success in achieving global solidarity and coordinating international efforts to combat the pandemic.
Dr Shaikh Mohammed said that thanks to the directives of His Majesty King Hamad bin Isa Al Khalifa, and the constant follow-up of His Royal Highness Prince Salman bin Hamad Al Khalifa, the Crown Prince and Prime Minister, Bahrain has managed to attain landmark achievements in containing the pandemic and ensuring the safety and health of the citizens and residents.
The SCH President and members of the National Medical Taskforce briefed the UNGA head and his accompanying delegation about the precautionary measures taken by the Kingdom to confront the virus, including high-quality healthcare services to the citizens and residents, following the best international practices and standards.
He added that health relations between Bahrain and specialised UN health agencies have been strengthened over the past period, citing the opening of the World Health Organisation's permanent office in the Kingdom, out of Bahrain's belief in the importance of sustainable health cooperation through exchange of expertise with various countries and adopting the best practices in this field.
Shahid wished the Kingdom further progress and prosperity