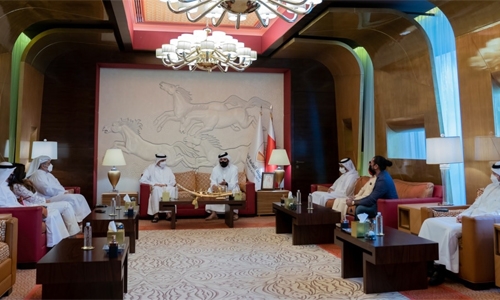 Use social media to boost the progress of the Kingdom, says HH Shaikh Khalid
TDT | Manama
The Daily Tribune – www.newsofbahrain.com
HH Shaikh Khalid bin Hamad Al Khalifa yesterday hailed national media for its support to Bahrain's youth development initiatives, as he described social media platforms as "weapons that must be used to serve Bahrain's progress march."
The First Deputy Chairman of the Supreme Council for Youth and Sports (SCYS) and the Chairman of the General Sports Authority and the President of the Bahrain Olympic Committee also called the media an essential partner in Bahrain's youth development drive.
Media support for youth development initiatives, HH Shaikh Khalid said, is boosting the reputation of Bahrain at the regional and international levels.
HH Shaikh Khalid said this while meeting Ali bin Mohammed Al-Rumaihi, the Information Minister, and the jury of the "Your Talent at Home" competition.
The support provided by the Information ministry for youth movement initiatives, Shaikh Khalid highlighted, has contributed to a great extent in highlighting the truthful image of Bahrain.
HH Shaikh Khalid also thanked His Majesty King Hamad bin Isa Al Khalifa and His Royal Highness Prince Salman bin Hamad Al Khalifa, the Crown Prince and Prime Minister, for boosting Bahraini youth.
Information Minister Al Rumaihi said the initiatives of Shaikh Khalid is creating opportunities for Bahraini youth to thrive and grow their creativity in various fields.
The minister also reaffirmed interest in promoting events and competitions enriching the youth movement and expressed pride in the potentials of the "Your Talent at Home" competition.
The programme in two categories, for above 16 and below 15, has competition covering acting, singing, shows, magic, strumming, painting and acrobatics. HH Shaikh Khalid had ordered to allocate prizes worth more than $60,000 for the winners.