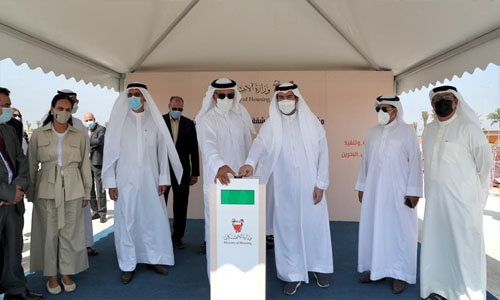 Bahrain Housing Ministry begins constructions of apartments in Salman City
TDT | Manama
The Daily Tribune – www.newsofbahrain.com
Housing Ministry announced starting the construction of 1,382 apartments on Island No 12 in Salman City. Basim Al Hamer, the Ministry of Housing, said the BD122,679,387 project expects completion by the second quarter of 2023. The housing minister said that the Salman City project contributes to the government's commitment to providing 25,000 housing units.
Undersecretary of the Ministry, Shaikh Khalid bin Hamoud Al Khalifa, the Assistant Undersecretary for Housing Policies and Services Dr Khaled Al-Haidan, Assistant Undersecretary for Housing Projects Reda Al-Adraj, officials and development company officials were present.
Al Hamar said that the ministry relies on sustainable energy principles of using renewable and recyclable materials, reducing energy consumption and waste when building new structures.
The project, the minister said, would help meet the increasing demand for ownership apartments in the Northern Governorate. Salman City follows the construction model for the sixth generation of residential buildings, with most of the units in the city overlooking green areas like parks, gardens, pedestrian and bike paths on a 40-kilometre waterfront.
Situated off the coast of the Northern Governorate, Salman Town sprawls across ten islands, which span a total of 740 hectares of land divided among six planned districts.