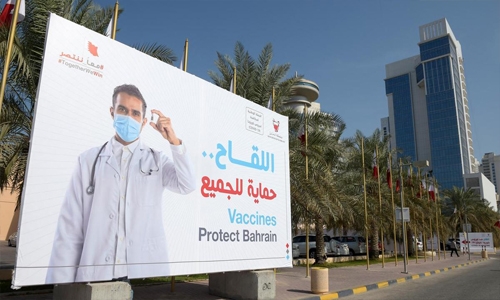 Bahrain to allow entry to certain public outlets only for Covid vaccinated citizens, residents, from Eid Al Fitr
TDT | Manama
The Daily Tribune – www.newsofbahrain.com
The National Medical Team for Coronavirus Response announced that starting from the first day of Eid al-Fitr, only those who have received both doses of vaccinations and completed two weeks after their last dose will be allowed entry into certain public outlets.
Those who have recovered from the virus by showing evidence of this through the application of a conscious society, as well as those under the age of 18 who are accompanied by their vaccinated guardians, and those who are not vaccinated will not be allowed to obtain internal services as follows:
• Internal services for restaurants and cafes.
• Indoor sports halls.
• Indoor swimming pools.
• Internal cinemas and their associated galleries.
• Spas.
• Indoor entertainment centres.
• Events and events halls.
• Masses attend sporting events.
While maintaining the social distancing standards and precautionary measures, all groups will be allowed to provide outdoor services to restaurants and cafes for outdoor sessions, open gyms, outdoor playgrounds, outdoor swimming pools, outdoor entertainment centres, and outdoor cinemas.
With regard to the examination upon return from travel, it was decided to cancel it for the vaccinated and those recovered by presenting proof of this through a conscious community application, starting from the first days of Eid al-Fitr.
According to the data and results, relevant decisions in this regard will be reviewed periodically in a manner that preserves the health and safety of everyone.
The national medical team for dealing with the Coronavirus, headed by His Excellency Lieutenant General Doctor Sheikh Mohammed bin Abdullah Al Khalifa, Chairman of the Supreme Council of Health, confirmed that the Kingdom of Bahrain continues to intensify its efforts aimed at dealing with the virus, in continuation of what has been achieved throughout the previous stages, noting the importance of supporting the national efforts with the determination of everyone through adhering to the procedures and initiate vaccination in a way that contributes to preserving the health and safety of everyone.
He stressed that adherence to the precautionary measures today represents a national duty and a societal responsibility more than ever before, and we all have confidence in the people of Bahrain and all residents of this good land to successfully overcome the challenge of the virus by relying on what they possess of a responsible spirit and awareness of the requirements of the stage to protect themselves, their families and their society, and their awareness of their role.
Responsible for supporting our children working in the front lines and supporting them in achieving the plans set to deal with the virus to reach the desired goals.
The national medical team for dealing with the Coronavirus indicated the increase and increase in the number of existing cases to unprecedented rates due to gatherings and failure to adhere to the precautionary measures and instructions issued by the concerned authorities, noting the need for vaccination, stopping gatherings in homes and dwellings, and adherence to procedures in a way that reduces spread rates