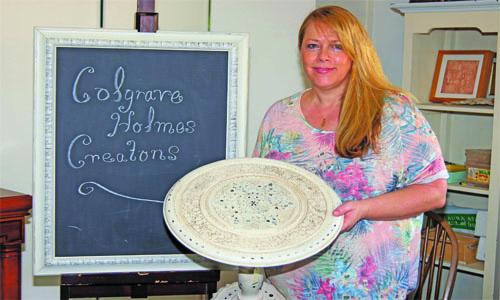 Chattels get new lease of life with artistic touch
When an antique piece of furniture lands in the hands of Sharon Colgrave-Holmes, it becomes an epitome of unique piece of art. Using her artistic skills she alters old furniture with a bit of paint and care into something new that anybody would like to own.
Tomorrow she is going to conduct her first open house at her home, where she will be displaying all her unique hand-painted furniture to her customers and well wishers.
Before Sharon came to Bahrain with her family, she had a small business in the United Kingdom where she supplied shops with painted furniture and took private commissions.
"I have always been interested in making and creating things. I have a Bachelors' Degree in Fine Arts. I began as a 3D artist and created sculptures out of recycled objects. I made a series of works out of old chairs and my interest in furniture led me to explore the growing trend in painted shabby chic furniture," says Sharon.
Within her four years sojourn in Bahrain, Sharon has acquired a good number of clientele. She also developed a standalone art, "The Memory Box," made by using a box container, clay and plaster.
"The Memory Box is an impression of our past. I still remember, before my stepmother died, she distributed all her jewellery sets to us. But, what came to my mind was to preserve them than wearing it. So, I started to maintain it by transmuting those jewelleries to an impression on my Memory Box and now her jewelleries last long forever," she explains.
The procedure of Memory Box starts with filling clay into a box container (be it any shape). After the box is filled with clay, the object, which we need to be imprinted, has to be pressed onto the clay to make out the composition. After removing the object, plaster is poured into to make a 3D imprint.
The process of painting furniture is relatively quick because the paint dries fast. Often she uses many coats of paint to get the look she wants and then use sand paper to distress and rub back the paint.
When she first came to Bahrain the only paint she could find for furniture was smelly oil-based paint. She prefers to use water-based paint in her works as it dries quicker and gives a better finish.
Last year Sharon was able to find some stores that had very limited supplies of paint and was able to develop her work. Sharon also uses the Americano chalk paint, which is available in Bahrain. Using paint of this type and quality is where she foresees the future of furniture painting in the Gulf.
Sharon is very proud of the fact that she has painted furniture in many countries. She even has a collection that will be shipped out to Dubai at the end of October.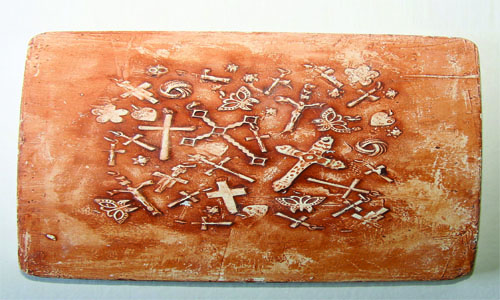 UK-born artist transforms old furniture into precious pieces of art