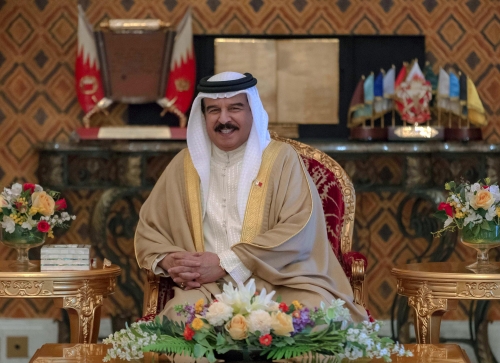 Peace declaration: Significant step towards achieving regional peace
HM King Hamad then referred to the declaration supporting peace signed recently between the Kingdom of Bahrain and the State of Israel in Washington, in line with Bahrain's vision to reach comprehensive peace as a strategic option to promote the peace and stability processes in the Middle East, which will contribute to consolidating global security and peace.
In this regard, HM the King affirmed that the signing of the declaration supporting peace is a significant historic step towards achieving comprehensive peace across the Middle East and realizing the aspirations of the peoples of the region and of all religions, for security, stability and progress, adding that the move emanates from the spirit of coexistence for which Bahrain has always been known.
"Among the goals that we envisioned and sought to achieve through the declaration supporting peace is to make the world recognise that peace is our message and strategic option and that tolerance and coexistence are among the most important characteristics of our authentic Bahrain identity. We are tolerant, and we love peace and coexistence," HM the King said.
"True coexistence and real peace are those based on the acceptance of the other, and this is the essence of the Bahraini citizens and their deep-rooted characteristics. We boast that our people is among the kindest on earth, as everyone confirms, and this kindness has entitled Bahrain to be a beacon for intellectual, cultural, religious and sectarian diversity," he added.