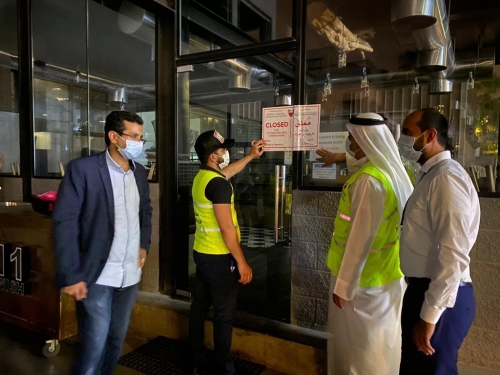 Coffee shop in capital shut over COVID-19 violations
Manama
Authorities here yesterday shut down one of the coffee shops in the Manama for violating coronavirus (COVID-19) preventive measures.
The raid was conducted jointly by Department of Food Control in cooperation with the Inspection Department of the Ministry of Industry, Trade and Tourism, and the Bahrain Tourism and Exhi- bitions Authority (BTEA).
The cafe, officers said, violated laws and regulations in force in the Kingdom banning the internal food services in the restaurants and cafes, expect in those authorised by BTEA.
The cafe was closed immediately and legal measures are taken.
As per a circular issued on 28 July 2020, restaurants approved by BTEA and those located in 4 and 5-star hotels are allowed to operate by taking reservations for special occasions that do not exceed 20 people per group and provided that reservations do not exceed one at each time.
The move was as directed by the Government Executive Com- mittee chaired by the HRH the Crown Prince, Deputy Supreme Commander and First Deputy Prime Minister.
However, outdoor dining at restaurants and coffeeshops are banned until 3 September 2020, as of now.
The phased reopening will be dependent on several indicators including the total number of positive results against the total number of daily COVID-19 tests, number of cases requiring intensive care, and the occupancy rate in isolation and treatment facilities.