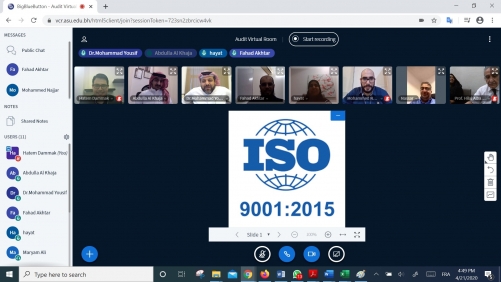 ASU achieves the BQA Institutional Review and Retains its ISO 9001:2015 Certification
ASU achieves the BQA Institutional Review and Retains its ISO 9001:2015 Certification It was a memorable Wednesday, 22 April 2020, for Applied Science University (ASU) when it scored 2 major successes on the same day: firstly, the University received the official confirmation that it has successfully passed the BQA (Bahrain Quality Authority) Institutional Review, by meeting all the requirements set in the BQA Institutional Review Framework. By achieving this, ASU joins an elite group of only 5 private universities in Bahrain who achieved both HEC (Higher Education Council) Institutional Accreditation and BQA Institutional Review.
Secondly, ASU successfully retained its ISO 9001:2015 Certification for the provision of administrative support for its students by passing the second surveillance audit for its quality management system. The 2 nd surveillance audit came about two years after the University first achieved the ISO 9001:2015 Certification back in 2018 and one year after it successfully passed its 1 st surveillance audit.
On this wonderful occasion, Professor Waheeb Alkhaja, Chairman of the Board of Trustees of ASU, congratulated all the academic and administrative staff of the University stating that these achievements come in line with the strategic plan set by the University which focuses on achieving the highest standards of quality for both its administrative provision and academic delivery.
Professor Ghassan Aouad, President of the University, also expressed his satisfaction with this double success explaining that this is yet another proof of the University's strong commitment and continued efforts to create a student-centric environment conducive to achieving excellence and outstanding performance by both staff and students, emphasizing that "quality and student satisfaction remain at the heart of everything we do". It is worth noting that ASU has also achieved the ISO 21001:2018 Certification in the past academic year, making it the first University in Bahrain and the Gulf region to meet the requirements of this new international standard developed specifically to guide the quality management systems in the educational institutions.