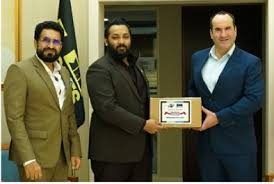 KHK Heroes Challenge goes global
KHK Heroes Challenge, which was started as a National Campaign, has quickly become a global one. KHK Heroes had called on the nation for a united cause, helping those most vulnerable during the Coronavirus Pandemic but were not expecting the call to be answered beyond international waters with Indonesia being the latest. Rika Aryuna SE.SH.MM President Director PT.
Mexico Garuda CITI and SMEXINDO Law firm has accepted the challenge from Indonesia. Along with a team of volunteers, they donated food packs in Indonesia to the elderly and less fortunate. Fuddruckers has also answered this call and accepted the challenge. Mateo Ramos, General Manager of Fuddruckers and Caribou Coffee said, "As we live through this global pandemic together, we must each do our share to support one another.
In addition to our other philanthropic efforts, we are proud today to announce our partnership with KHK Heroes to help the migrant workers who are negatively affected by the loss of salaries and other problems as a result of the Covid19 Pandemic. The mission of KHK Heroes is to inspire Global compassion and we could not have found a better partner.
We hope that by this donation, we can give those in need some comfort." KHK Heroes National Challenge was initiated upon the directions of HH Shaikh Khalid bin Hamad Al Khalifa to support the vision HRH Prince Salman bin Hamad Al Khalifa, the Crown Prince, Deputy Supreme Commander, and First Deputy Premier and HH Shaikh Nasser bin Hamad Al Khalifa, His Majesty the King's Representative for Charity Works and Youth Affairs, National Security Advisor and President of the Supreme Council for Youth and Sports.
The public can take part in the challenge by making donations, volunteering time to KHK Heroes or taking up the challenge to post a video online and nominate someone to pay it forward.