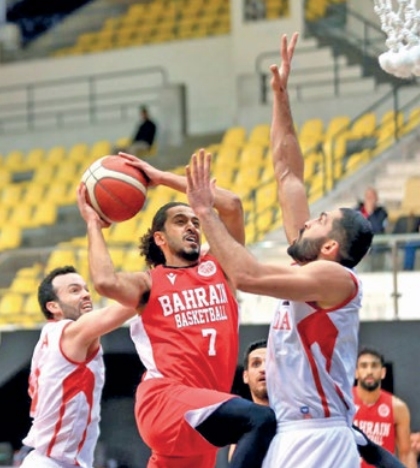 Bahrain lose third straight after falling to Syria
TDT | Manama
Bahrain suffered their third successive defeat in the King Abdullah II Basketball Cup 2020 in Amman late Thursday night after falling to Syria 64-81. The Syrians controlled the game from the very start. They led 18-16 at the end of the first quarter, which they stretched to 40-29 following a dominant second period.
The Bahrainis reduced the deficit in the third, but only marginally, as they continued to trail 50-59, but then Syria closed things out strong with a 22-14 fourth quarter. Syrian big man Abdulwahab Al Hamwi made the most of his size advantage to lead his team with 15 points, 15 rebounds and two blocks.
He was named the Player of the Game. With the result, the Bahrainis remained winless in the competition after losses to Lebanon and Jordan in their previous two games. They have one fixture remaining, which is against Iraq. The Syrians' win was their first in four contests. Their game against Bahrain was also their last of the competition.
The Bahrainis are competing in the tournament as part of their overseas training camp in Amman where they are preparing for their upcoming qualifiers for the 2021 Fiba Asia Cup. Five teams in all are participating in the Jordan event, namely Iraq, Syria, Lebanon, Bahrain and hosts Jordan.
The Bahrainis are in Group D of Fiba Asia Cup qualification along with India, Lebanon and Iraq. They open their campaign against their Indian counterparts next Friday. Bahrain, coached by former NBA champion Sam Vincent are in Amman with a team that includes Mohammed Hussain, Ahmed Aldurazi, Ali Shukrallah, Mohammed Buallay, Subah Hussain, Mohammed Salman, Mohammed Qurban, Maytham Jameel, Hesham Sarhan, Ahmed Abdulaziz, Mohammed Ameer and Muzamel Ameer.