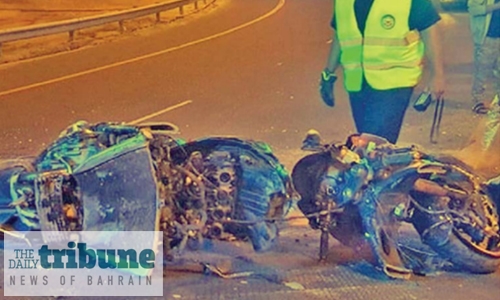 Narrow escape for Bahraini youngster in road accident
A Bahraini youngster had a great escape after his bike slammed into a pavement, splitting into two parts. According to sources, the biker lost control of his bike, which skid on the road, leading to the accident. The incident occurred in Zallaq. Sources said that the accident victim suffered minor injuries.
"The man was lucky to escape with minor injuries while the bike was totally damaged." Traffic police arrived on the scene immediately and took the necessary procedures. The man was rushed to the hospital and the bike was removed from the road. Investigation has been launched into the accident.
The Kingdom has been experiencing light showers in the past few days and the General Directorate of Traffic has warned motorists to be careful due to increased risk of accidents.
The General Directorate of Traffic has urged drivers to be cautious of the rain and follow the safety rules, including staying on proper lanes, not exceeding the speed limits and keeping the safety distance between vehicles.