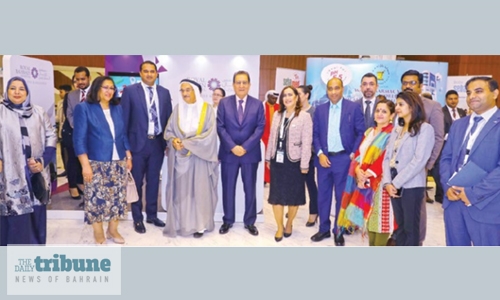 Bahrain Health Regulatory Conference 'a big success'
The recently concluded Bahrain Health Regulatory Conference witnessed a huge success, where more than 700 participants from different specialisations in healthcare sector attending workshops, lectures and panel discussions that focused on the status, challenges and future plans in the health regulatory sector. The first edition of the conference came under the slogan "Safe and High Quality Health Services" and under the patronage of the Chairman of the Supreme Council of Health Lieutenant General Dr Shaikh Mohammed bin Abdullah Al Khalifa.
The conference was organised on November 28-30, 2019, at the Gulf Hotel Bahrain. It was organised by the National Health Regulatory Authority (NHRA) and featured 37 high-calibre local, regional and international speakers who have rich experience in various fields of the health sector. The speakers addressed 24 of the vital regulatory issues and topics in the sector throughout the three days of the conference.
This included the regulations of health facilities, health advertisement, alternative medicine practice, medical equipment and pharmaceutical establishments. Additionally, the speakers cast light on other regulatory sides of the health sector in Bahrain and the region, such as artificial intelligence in healthcare, medical complaints data and resolutions and decrees that are related to the health sector. The conference also included an exhibition that was held on the sidelines of the event and continued throughout the three days, showcasing various stakeholders.
Attending the opening ceremony on the first day were the event's patron Health Minister Faeqa Al Saleh, Labour and Social Development Minister Jameel Humaidan, Conference Chairperson and NHRA CEO Dr Mariam Al Jalahma, and representatives of the Supreme Council for Women and the Labour Fund (Tamkeen), in addition to a number of diplomats, senior officials, chief guests, dignitaries and stakeholders in the health sector in the Kingdom and the GCC. Commenting on this occasion, Dr Al Jalahma said: "The conference will become a significant landmark in Bahrain and the region.
After the positive feedback we received we will plan the second version to expand on the workshops and external speakers to ensure the maximum benefit and exchange of experience." The participants and attendees were granted Continuing Medical Education (CME) hours that are certified by NHRA for taking part in the different activities at the event.
Attendees of the conference were granted a total of 30 CMEs, while those who attended the workshops were granted four CMEs per workshop, and those participating with presentation posters were granted one CME per poster. A specialised workshop on cross infection and prevention in healthcare facilities was also held, and the attendees were granted six CMEs.