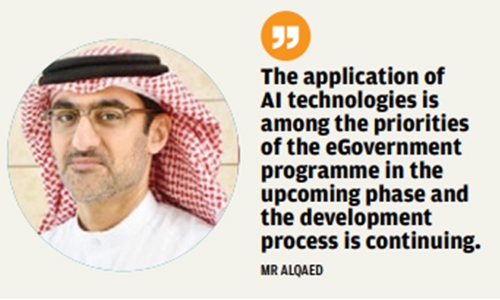 'Artificial Intelligence a major priority of eGovt Programme'
Information and eGovernment Authority (iGA) Chief Executive Mohammed Ali AlQaed said that the speech of His Majesty King Hamad bin Isa Al Khalifa at the opening of the second session of the fifth Legislative Term of the Shura and Representatives councils, was a reaffirmation of the institutionalisation of democratic life under the reform process lead by HM the King and with the support of the government of HRH Prince Khalifa bin Salman Al Khalifa the Prime Minister, and the supervision of HRH Prince Salman bin Hamad bin Isa Al Khalifa Crown Prince, Deputy Supreme Commander and First Deputy Prime Minister.
Mr AlQaed said that the Kingdom's Information and Communication Technology (ICT) sector has experienced major advances under His Majesty's reign, built upon a solid IT infrastructure and a supportive legislative environment that is in line with current developments.
All of these factors enhance the effectiveness and performance of the government sector, empowering national cadres to offer advanced government eServices to the community and placing the Kingdom firmly among advanced countries in the ICT field, the official observed. He noted that His Majesty's speech was a roadmap for iGA going forward, stressing the Kingdom's technical readiness that qualifies to directly focus on improving its digital economy and Artificial Intelligence (AI) capabilities.
"The application of AI technologies is among the priorities of the eGovernment programme in the upcoming phase and the development process is continuing," he added. Mr AlQaed said that a comprehensive AI national strategy is being formulated to improve government productivity and create a work environment that encourages innovation.
A workshop by international experts is planned for November in co-operation with Economic Development Board (EDB) and the World Economic Forum to consider the possibility of applying a number of successful international AI initiatives in the government sector. He said that iGA continues to develop infrastructure in accordance with best international practice to support cloud computing migration across the Kingdom. The focus of iGA's next phase is to speed up the transition towards a digital economy in partnership with all relevant sectors, and in implementation of His Majesty's vision.