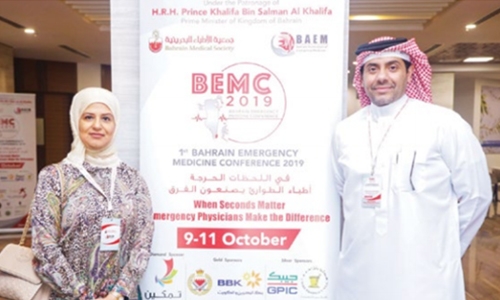 Forum focuses on comprehensive emergency system
A key conference has recommended the establishment of a comprehensive emergency system in the Kingdom. The demand came at the Bahrain Emergency Medicine Conference held under the patronage of Prime Minister His Royal Highness Prince Khalifa bin Salman Al Khalifa.
Organised by Bahrain Medical Society and Bahrain Association of Emergency Medicine, the conference was attended by more than 500 participants including 52 experts in emergency medicine from across the world. The standardisation of emergency practices between various hospitals in the Kingdom of Bahrain will reflect positively on patient's lives and outcomes. This must include prehospital services and within hospitals, the experts observed.
It is also vitally important to unify the triage system between all health organisations in the kingdom to be able to communicate better and more effectively, they said. "It also recommended to offer higher incentives to all people working in emergency departments being paramedics, physicians, nurses and technicians to encourage everyone to enrol in this new promising specialty."
Dr Ghada Al Qassem, President of Bahrain Medical Society, confirmed that the society in collaboration with the Bahrain Association of Emergency Medicine, will convey and discuss these recommendations with various concerned parties, saying that these recommendations "represents a combination and the outcomes of high level experts in the conference, and we have benefited considerably from their advice and expertise in emergency medicine".
Dr Al Qassim also expressed her satisfaction with the great success of the conference in terms of the number of participants, which reached more than 500 participants, in addition to the number of speakers from all over the world. Dr Saleh Al Ghanim , President of the Bahrain Emergency Medicine Association, commented the co-operation between all parties to implement the recommendations of the conference will improve the quality of services provided to patients, especially that emergency physicians are the front lines of any hospital.
He added: "Our slogan for the conference was 'When Seconds Matter, Emergency Physicians Make the Difference' because we believe and value the important rule of emergency physicians in saving lives and we want to raise the standards of emergency physicians to match international levels." Dr Al Qassim and Dr Al Ghanim at the end of this conference announced that there will be another conference next year, 2020, to continue what they have started and aiming to reach the top of services in emergency medicine practise in the Kingdom.