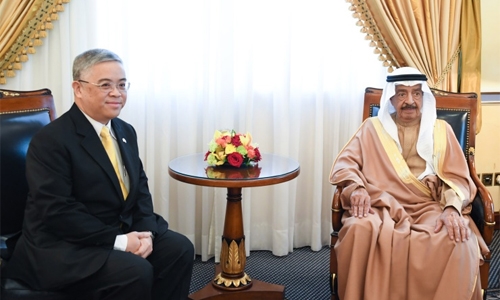 Spotlight on Thailand ties
His Royal Highness Prime Minister Prince Khalifa bin Salman Al Khalifa received Ambassador of Thailand to Bahrain, Thanis Na Songkhla, at the Riffa Palace yesterday. HRH the Premier commended the advanced friendly ties and reviewed ways of boosting them in in various fields. HRH the Premier expressed his gratitude and appreciation for the hospitality he received during his recent visit to the Thailand that reflects their deep-rooted friendship.
The Thai ambassador conveyed the greetings and appreciation from Prime Minister Prayuth Chan-O-cha and his best wishes to Bahrain and its people of continuous progress and prosperity. He also expressed his country's appreciation for His Highness's efforts in boosting the bilateral friendship and co-operation ties and His Highness's supporting the Gulf countries' co-operation with Thailand.
HRH the Premier emphasised his support to all the efforts to bolster the bilateral co-operation and mutual trade and investment and opening new areas for cooperation and encouraging the private sector and businessmen from both sides to enter into joint ventures to reap the benefit in both countries. HRH the Premier expressed pride in the close friendship and partnership between the Kingdom of Bahrain and Thailand, based upon their mutual understanding, co-ordination, respecting each other and the spirit of amity and rapprochement between both Governments and friendly peoples.
The ambassador of Thailand expressed his deep gratitude and appreciation to HRH the Prime Minister for his keenness on boosting the Bahrain-Thailand cooperation relations, lauding the outcome of the latest visit of HRH the Prime Minister to Thailand in developing communication between the two friendly countries to serve their mutual interests.
The ambassador praised the contributions of HRH the Prime Minister and his pivotal role in consolidating the friendship and cooperation between Thailand and Bahrain, and reaffirmed his country's aspiration to boost its ties with Bahrain in the various sectors.