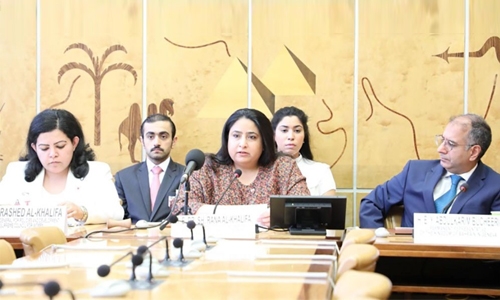 Bahraini women's strides highlighted at UN forum
The Supreme Council for Women (SCW) has participated in the panel discussion organised by Bahrain's mission at the UN headquarters here on the sidelines of the 41st session of the UN Human Rights Council (UNHRC) to shed light on the Kingdom's women advancement achievements, being related to the Sustainable Development Agenda and Goals 2030. The event attracted a large number of attendees, including heads and members of diplomatic missions to UN and delegations to the UNHRC sessions, as well as specialised academics and students.
During the panel discussion, Foreign Ministry's Undersecretary and SCW member, Dr Shaikha Rana bint Isa bin Duaij Al Khalifa, delivered a statement in which she talked about Bahrain's experience in the field of women's advancement, as well as women's contributions to the development and stability of society.
While highlighting Bahraini women's achievements in the diplomatic field, she said that an undersecretary, an Executive Director of Bahraini Diplomatic Institute and five directors had been appointed at the Foreign Affairs Ministry, in addition to appointing women ambassadors to France, Belgium, the UK, China and the US, noting that women account for 33 per cent of the Foreign Ministry's staff and 31 per cent of the diplomatic personnel.
Director-General of Polices and Development at the SCW, Shaikha Deena bint Rashid Al Khalifa, gave a presentation about Bahraini women's prominent presence across various development fields, as well as the key role played by the SCW in this role. She also spoke about Bahraini's presence at the international level in women-related fields, being an active member in the UN Commission on the Status of Women and the UN-Women Executive Board, noting that the kingdom has proved its influential and effective role in regional and Arab women organisations.
Shaikha Deena also stressed the importance of the HRH Princess Sabeeka Bint Ibrahim Al Khalifa Global Award for Women's Empowerment in adopting mechanisms to support women issues across the world according to the best international standards. She also stressed the SCW's keenness to contribute to achieving SDGs, noting that it has recently launched a gender balance observatory to be an official reference for all women-related indicators.
In this regard, she pointed out that most indicators reflect the strength of the women advancement-supporting environment in Bahrain, citing the lack of wage gap between women and men in the Kingdom, and the increase of women's income by 91 per cent between 2008 and 2018.