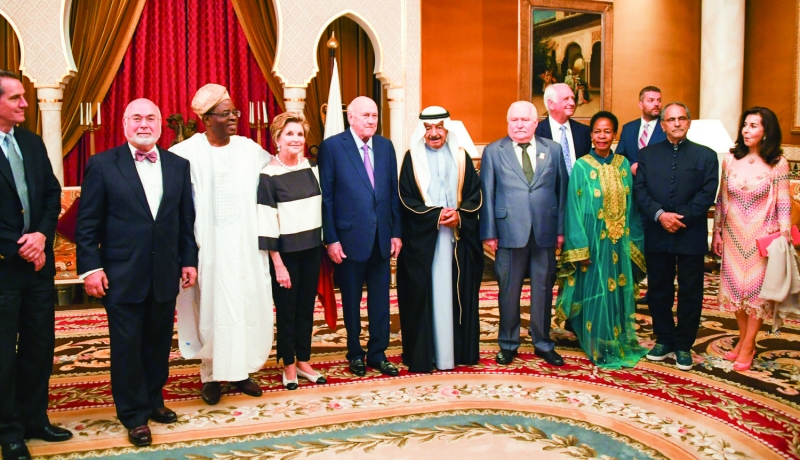 His Royal Highness Prime Minister Prince Khalifa bin Salman Al Khalifa yesterday hailed the visit of the heads of states and Nobel Peace Prize laureates to the Kingdom.
HRH the Premier described the landmark visit as being historic and memorable, bringing together on the land of peace, three heads of states and peace laureates, whose achievements are recognized all over the world.
The Premier expressed deepest thanks and appreciation to the heads of states and organizations, recipients of the Nobel Prize, for accepting the invitation to visit the Kingdom, hailing their strenuous efforts to promote and bolster peace all over the world. "This landmark visit will remain engraved in the memory for its high significance and crucial timing," he said, describing the visit of the 'Men of Peace' as an international recognition of Bahrain's role in advocating global peace.
HRH the Premier delivered the keynote address as he hosted a dinner banquet at the Ritz Carlton in honor of the heads of states and organizations as well as recipients of the Nobel Peace Prize.
The delegation comprised former President of South Africa Frederick William de Klerk, former President of Poland Lech Walesa, former President of East Timor Jose Ramos-Horta and Under-Secretary-General and former Executive Director of the United Nations Human Settlements Programme Anna Tibajuka, and Nobel Peace Prize Laureate for 2014 Kailash Satyarthi.
HRH the Premier said that the current challenges unfolding in many regions necessitate more international concerted action to create the required conditions for peace which will bolster the strenuous efforts exerted by countries and societies to achieve sustainable development and build a more prosperous future.
The Premier expressed thanks to the members of the delegation for their press statements in which they hailed Bahrain's development strides. He reiterated Bahrain's keenness on pursuing this cooperation for the sake of peace, security and peace in the world, which emanates from its firm belief in the noble message of peace, the cornerstone of countries' security, stability and development.