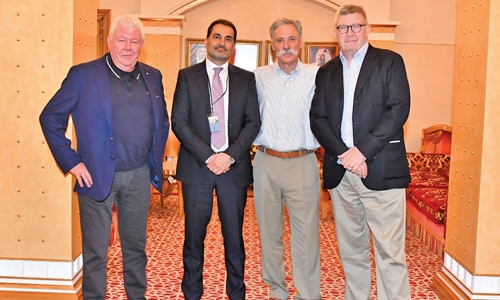 BIC Chairman welcomes F1 CEO
Manama : Arif Rahimi, Chairman of Bahrain International Circuit, yesterday welcomed Chase Carey, Chief Executive Officer and Chairman of The Formula One Group, on his arrival to the Kingdom of Bahrain ahead of the Formula 1 2018 Gulf Air Bahrain Grand Prix.
Upon his arrival, Rahimi emphasised the strong relationship between the BIC and Liberty Media as they continue their pursuit to deliver an ever-improving race spectacle for the pinnacle of global motorsport.
Arif Rahimi, Chairman of the Bahrain International Circuit, said: "We welcome Chase Carey and the rest of the Liberty senior management team to Bahrain, ahead of the second race of the season at the Bahrain International Circuit.
"Over the last year, together with other F1 race promoters, we have been working closely with Liberty on many of the new and exciting changes to F1 in 2018. In particular, we are delighted that the Pirelli Hot Laps programme will be launched this weekend. Together with the new Grid Kids initiative, there is no doubt that F1 is progressing in the right direction, bringing fans much closer to the action.
"Formula 1 continues to deliver strong economic benefits to the Kingdom of Bahrain, which is one of the many reasons which underlines our long-term commitment to the sport. Last year, F1 delivered a USD95 million direct boost to the Kingdom, with considerably higher indirect benefits felt throughout the year.
"I take this opportunity to also welcome the teams and officials to the Kingdom, who are all well underway with their preparations for what we expect to be a hugely exciting weekend of racing and entertainment."