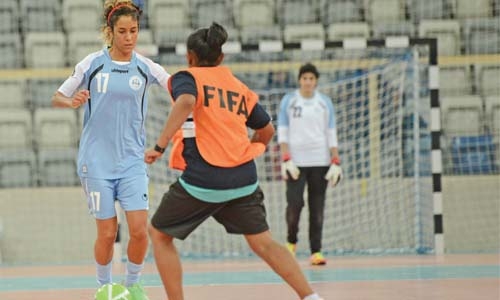 Manama : The lady footballers and basketball players of Bahrain are in for a treat on December 1 as 'The Bahrain Women's Day Sportsfest 2017', an exciting addition to the continued development of women's sport in The Kingdom, gets set to play out at The Umm Al Hassam Sports Stadium.
The one-day event, organized by Out of the Box and supported by the Bahrain Olympic Committee (BOC), celebrates 'Bahrain Women's Day'. The festivities commence at 9am and continue until 6pm.
It's held under the patronage of Shaikha Hayat bint Abdulaziz Al Khalifa – Member of the Supreme Council for Youth and Sports, the BOC, and Chairwoman of the Bahrain Women's Sports Committee.
In this inaugural edition of what will hopefully become an annual event, teams will get the chance to compete in the fast paced sports of Futsal and 3-on-3 Basketball for a range of trophies and great sponsor prizes; it is expected that 10 teams will battle it out for the Futsal title, while as many as 24 teams will shoot the hoops on the way to hopeful basketball success.
There will also be action away from the sports halls with display stands showcasing arts and crafts from a number of lady entrepreneurs, a range of children's activities and food stalls – making 'The Bahrain Women's Day Sportsfest 2017' more than just a sports event, creating a festival atmosphere so that all the family can enjoy the day.
"With the lead of Shaikha Hayat and the Bahrain Olympic Committee, women's sport is gaining more and more interest and prominence in Bahrain and we are delighted to provide the ladies with a new competitive opportunity, particularly on Bahrain Women's Day," said Managing Director of Out of the Box, Sarva Velamuri.
"We are starting with two sports this year, but hope to grow the event year on year to include further sports and sportswomen from other GCC countries; as with all events, commercial support is very important and I would like to thank all of our sponsors – this is an exciting time for women's sport and it's great to have you all onboard".
There is still time to enter 'The Bahrain Women's Day Sportsfest 2017' – for Futsal, contact Ali on 3945 4403; for Basketball, contact Jalil on 3326 6625; or to contact Out of the Box, call Sarva on 3667 7719 or Godwin on 3667 7019.