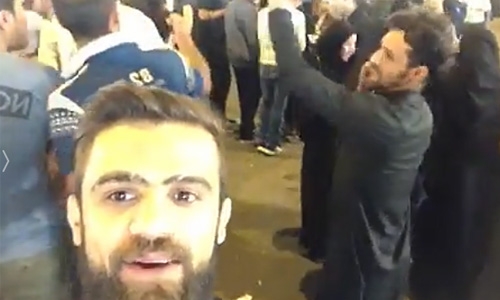 Bahraini dentist recounts quake horrors in Iraq
Manama : Fear gripped millions of pilgrims visiting Karbala City when the powerful 7.3 magnitude earthquake hit the northern parts of Iraq on Sunday night.
Among the pilgrims in the city were Bahraini visitors who came to perform the annual religious rites.
A Bahraini visitor shared with DT News the horrifying moments when the earth shook beneath their feet.
Dr. Mohammed Al Showaikh, a Bahraini dentist, was walking into the elevator inside one of Baghdad's hotels when "the entire building began shaking aggressively".
"I didn't realise what was happening as I have never experienced an earthquake before my life. There were no alerts by the authorities. I couldn't stand properly but I maintained my composure for a couple of seconds. I only panicked when I saw everyone in the building rushing to the exit and that's when I ran out with them without any senses," Dr. Al Showaikh told DT News.
He continued, "Everyone gathered in the middle of the road, frightfully wondering what was happening. It was chaotic. Children were crying, women were screaming and elderly people couldn't stand still. We feared that the buildings may tumble down on us."
Dr. Al Showaikh said he personally thought that the tremor was caused by an explosion, as he survived a terrorist bombing in Iraq during a previous visit.
"I'm keen on annually attending the rituals here in Karbala. Last year me and my friends survived a deadly terrorist attack as we were close to a petrol station where a booby-trapped tanker truck was detonated. The way the buildings were shaking on Sunday reminded me of last year's incident," Dr. Al Showaikh recalled, adding that they later knew from online news sites about the earthquake in the northern parts of the country.
He also said that "people stayed in the middle of the road for at least half an hour fearing that the earthquake may repeat".
Dr. Al Sowaikh confirmed that he and the accompanying 60 Bahraini pilgrims were not affected by the tremor.
He added, "We were all physically safe. Some were panicking for a while, but we were eventually reassured. The power and telecommunication networks were working fine, and the buildings remained in one piece without collapsing, unlike other less fortunate areas in the country."