Torrential rain drowns Bahrain
Manama : Torrential downpour lashed Bahrain yesterday, paralysing normal life, with several localities in the Kingdom remaining submerged in knee-deep water, which follows ten days of wet weather.
Most of the low-lying areas in the city were worst affected in the relentless downpour, adding to the misery of residents and pedestrians.
The ministry's Rainwater Emergency Committee and Works Undersecretary Ahmed Al Khayat confirmed that 107 water tankers and 23 pumps are currently in operation at all
four governorates of the Kingdom.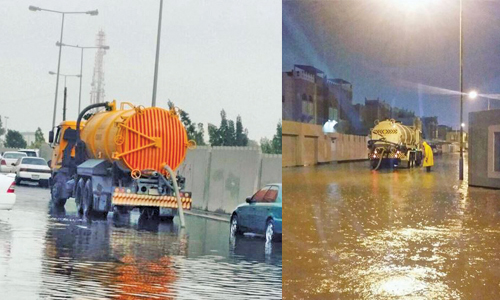 While stressing on the importance of protecting sewerage networks, Al Khayat also urged the public not to open the lids of sewerage network.
In case of emergency, residents can contact civil defence by calling '999'. The public can also report flooding to the ministry's hotline on 80001810.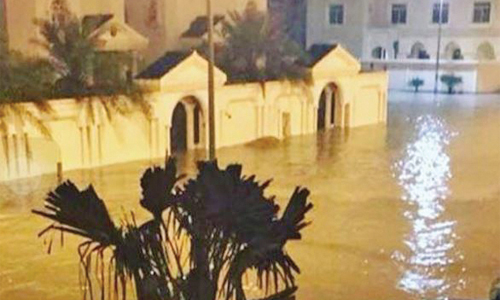 Rains to continue
Meanwhile, the meteorological directorate warned that heavy rains are expected to continue today with partly cloudy skies expected in the evening.
The Interior Ministry, through its official Twitter account, has alarmed the public to remain cautious and to take necessary precautionary measures. "Kindly move the necessary items to the second floor and disconnect electricity,"the message read.
The Ministry also urged the public to avoid using wet electrical appliances.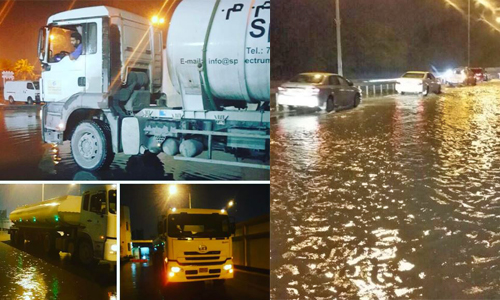 "Kindly report all damaged electricity and water connections to concerned authorities," the message further said.
Motorists were warned to avoid places where the depth of water is unknown.
Works, Municipalities Affairs and Urban Planning Ministry earlier said in a statement that it is working round the clock to tackle flooding in different parts of the country.
Meanwhile, the inclement weather was a topic of discussion in social media in Bahrain.
Bahrain is literally drowning right now, said one Twitter user.
"It feels like Bahrain has been engulfed by an angry cloud. Can't believe this whole week it has been raining in Bahrain!," another message read.