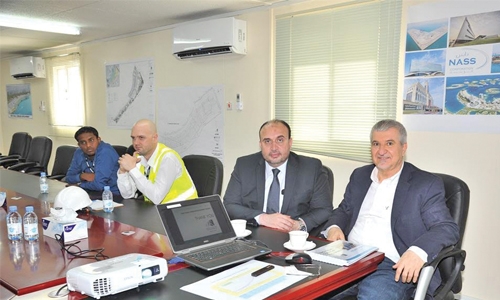 Avenues Bahrain mall set for grand opening next year
Manama : Construction works at the Avenues Bahrain mall, which is set to open next February, is going according to schedules, officials said.
It was announced yesterday that 16 per cent of the works have been completed. This came within a periodic visit of Works, Municipalities Affairs and Urban Planning Ministry to the project.
The Ministry's Joint Municipal Works Assistant Undersecretary Raed Al Salah visited the project site that is located on the northern coasts of the Capital, alongside King Faisal Highway.
He said that the BD45 million mall will have a 1.5 Kilometre seafront and 75, 000 square metres of greeneries, landscapes and public parks.
Al Salah announced that the project will be established on a 270, 000 square metre space and will consist of parking spaces to accommodate around 1400 vehicles, in addition to spacious playgrounds, walking/jogging tracks, a gym, restaurants, coffee shops and cinemas.
He stated the mall would serve the country's family tourism schemes and is considered among the leading developmental projects in Bahrain.
He recalled the laying of the foundation stone of the project by Deputy Prime Minister Shaikh Khalid bin Abdullah Al Khalifa last September, adding that the project is supervised by King Faisal Corniche Development Company.