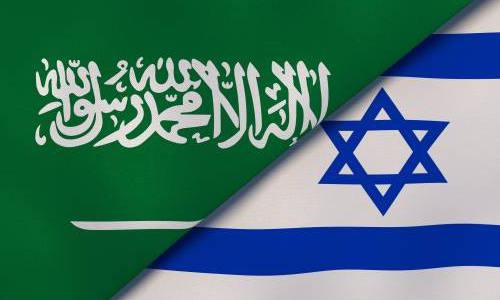 Israel, Saudi Arabia see progress on ties as Iran sounds warning
AFP | New York
The Daily Tribune – www.newsofbahrain.com
Saudi Arabia and Israel voiced optimism Wednesday that they were moving closer to a historic normalization of ties as Iran -- their common foe -- accused the kingdom of betraying the Palestinians through the US-led effort.
US President Joe Biden is hoping to transform the Middle East -- and score an election-year diplomatic victory -- by securing recognition of the Jewish state by Saudi Arabia, the guardian of Islam's two holiest sites.
Meeting Israeli Prime Minister Benjamin Netanyahu in New York on the sidelines of the UN General Assembly, Biden quipped that he had "Irish optimism" on securing a deal with Saudi Arabia.
"If you and I, 10 years ago, were talking about normalization with Saudi Arabia, I think we'd look at each other like, 'Who's been drinking what?'" Biden -- himself a teetotaler -- said of Israel and the strictly dry kingdom.
Netanyahu, who has had rocky relations with Biden, said he believed a deal was "within our reach" and credited him.
"I think that under your leadership, Mr. President, we can forge a historic peace between Israel and Saudi Arabia," Netanyahu said.
Biden has publicly criticized Netanyahu for overhauling Israel's judiciary, a step seen by domestic critics as undermining democracy, and alluded to the concerns again as he received him in New York rather than at the White House.
- Closer 'every day' -
Biden's relationship has been even worse with Saudi Arabia's Crown Prince Mohammed bin Salman, whom the president once vowed to treat as a "pariah" over human rights.
US intelligence says the crown prince, known by his initials MBS, ordered a 2018 operation to kill and dismember journalist Jamal Khashoggi, a US resident.
In an interview with Fox News, MBS said talks were moving forward with Israel, denying a media report that the process was suspended.
"Every day we get closer," the prince said.
But he noted the kingdom was seeking more progress on ensuring the rights of the Palestinians, as Netanyahu's hard-right government continues to pursue controversial settlements in the occupied West Bank.
"For us, the Palestinian issue is very important. We need to solve that part," he said. "We need to ease the lives of the Palestinians."
He also warned that Saudi Arabia was closely watching Iran, whose Shiite clerical leaders are arch-foes both of the conservative Saudi kingdom and Israel.
Asked how the kingdom would react if Iran develops a nuclear weapon, MBS said, "If they get one, we have to get one."
Saudi Arabia has also been seeking security guarantees, including reportedly a treaty, with the United States in return for normalizing with Israel, the region's only nuclear weapons state -- even if an undeclared one.
- Iran warning -
Iran denies seeking a nuclear weapon and has repaired relations with Saudi Arabia in recent months through talks led by China and through the easing of a proxy conflict in Yemen.
But relations remain fraught and memories are fresh over 2019 drone attacks on Saudi oil facilities blamed on Iran.
Iranian President Ebrahim Raisi, addressing reporters Wednesday on the sidelines of the UN General Assembly, said that any deal that aims "to bring security for the Zionist regime" -- Israel -- "will certainly not do so."
"We believe that a relationship between regional countries and the Zionist regime would be a stab in the back of the Palestinian people and of the resistance of the Palestinians," Raisi said.
Israel normalized relations decades ago with neighboring Egypt and Jordan and in 2020 added three more Arab states -- the United Arab Emirates, Bahrain and Morocco -- in what then US president Donald Trump considered a towering foreign policy achievement.
The so-called "Abraham Accords" also included sweeteners from Trump, including a promise to sell top-of-the-line F-35 jets to the United Arab Emirates.
Secretary of State Antony Blinken, in an interview with ABC News on Wednesday, said normalization between Saudi Arabia and Israel would be a "transformative event."
"To bring these two countries together in particular would have a powerful effect in stabilizing the region, in integrating the region, in bringing people together, not having them at each other's throats," Blinken said.
But he acknowledged it remained "hard to get there."