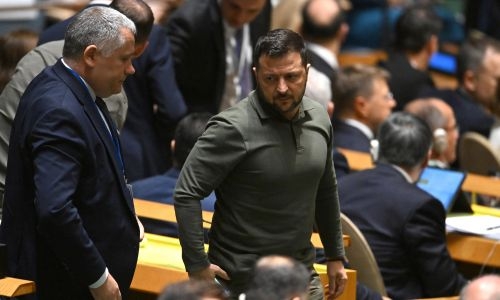 Biden urges UN to stop Russia's 'naked aggression' in Ukraine
AFP | United Nations, United States
The Daily Tribune – www.newsofbahrain.com
US President Joe Biden appealed to the United Nations yesterday t o stop Russia's "naked aggression" in Ukraine, warning other states would be at risk if the world appeases Moscow.
"We must stand up to this naked aggression today to deter other would-be aggressors tomorrow," Biden told the UN General Assembly in New York, attended by Ukrainian President Volodymyr Zelensky -- but not Russia's Vladimir Putin.
Biden's words on Ukraine won applause in the hall, but he was speaking to an audience missing numerous key leaders, including those from France and US allies Britain and France.
He warned that the UN's "core principles" of peace and national sovereignty were at risk if the world tries to "appease" Russia, which invaded Ukraine in February 2022.
"Russia's price for peace is Ukraine's capitulation, Ukraine 's territory, and Ukraine's children.
Russia believes that the world will grow weary and allow it to brutalize Ukraine without consequence," Biden said.
"Can any member state in this body feel confident that they are protected if you allow Ukraine to be carved up?
Is the independence of any nation secure?"I'd respectfully suggest the answer's no."
Biden added that the United States and its allies would "continue to stand with the brave people of Ukraine" as they tried to expel Russian forces from the country.
Zelensky, wearing his trademark khaki shirt and sitting in the Ukrainian delegation's section of the UN hall, applauded at the end of Biden's speech.
The Ukrainian leader will visit the White House on Thursday to seek more US aid and weaponry to push its slow-moving counteroffensive.
He is also due to meet members of the US Congress, where Biden's administration is trying to shore up support for a new $24 billion Ukrainian aid package in the face of growing Republican opposition.