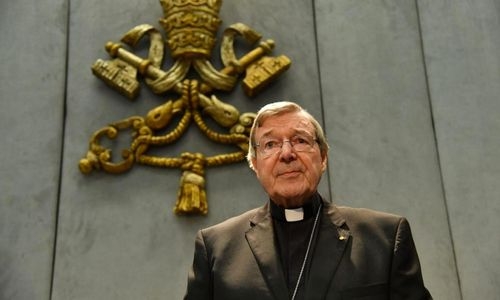 Divisive Catholic Church leader Cardinal George Pell dies in Rome
Agencies | Vatican
The Daily Tribune – www.newsofbahrain.com
Cardinal George Pell, a giant of the Catholic Church who was convicted and later cleared of sexual abuse in Australia, has died in Rome aged 81, a church official confirmed Wednesday.
From humble beginnings in regional Australia, Pell climbed the ranks to become one of Pope Francis's most trusted advisers inside the Vatican.
He was also the highest-ranking Catholic to be imprisoned for child sexual abuse, before his convictions were quashed on appeal.
While supporters praised Pell on Wednesday as a modern-day "saint", victims of Church abuse said his death dredged up painful memories.
Archbishop of Sydney Anthony Fisher confirmed Pell died in Rome in the early hours of Wednesday.
Former conservative Australian prime minister Tony Abbott said his friend's name had been tainted by a "monstrous allegation".
"His incarceration on charges that the High Court ultimately scathingly dismissed was a modern form of crucifixion," Abbott said Wednesday.
"He strikes me as a saint for our times."
But Donald McLeish, from the Survivors Network of those Abused by Priests, said Pell embodied the Church's neglect of sexual abuse victims.
"His name is known (by) survivors across the world," he told AFP.
"Not just for his inaction, but the coldness that he put towards victims and survivors.
"He's gone but the battle continues."
Pell's body will be returned to Australia and buried in the crypt of St Mary's Cathedral in Sydney, church officials said.
Australian lawyers, meanwhile, confirmed Wednesday they would plough ahead with a civil case listing Pell as a co-defendant.
The case had been brought by the father of a former altar boy who alleged he was sexually abused by Pell.
"The claim will continue against the church and whatever estate Pell has left behind," Shine Lawyers said in a statement.
Pell died of heart complications related to a hip surgery he had undergone in a Rome hospital on Tuesday, according to the Vatican's official news website.
Allegations of sexual abuse started swirling around Pell in 2002, when he was the Archbishop of Sydney.
He was accused of sexually abusing a teenage boy at a camp in the early 1960s, but an investigation launched by the church eventually dismissed the claims.
One year later, in 2003, Pope John Paul appointed Pell to the powerful position of cardinal.
Pell continued to rise and in 2014 he was tasked with rooting out church corruption as the head of the Secretariat for the Economy.
He was widely seen at the time as the right-hand man of Pope Francis and the third most powerful figure in the church.
Further allegations surfaced at the height of Pell's power in 2016.
He voluntarily returned to Australia to face accusations that he molested two 13-year-old choirboys in the 1990s.
Pell strenuously denied those charges until his death.
"What a load of absolute, disgraceful rubbish," he said in a 2016 police interview.
The first trial ended in a hung jury, but a second trial found Pell guilty.
In 2019, he was sentenced to six years in prison and registered as a sex offender.
He spent 12 months in Barwon Prison near Melbourne before the Australian High Court quashed his convictions on appeal -- opening the door for his return to Rome in late 2020.
Pell was embraced by the Church despite the scandal and was received by the pope inside the Apostolic Palace in October 2020.
He was among those in attendance at the funeral of Pope Benedict XVI at St Peter's Square last week.