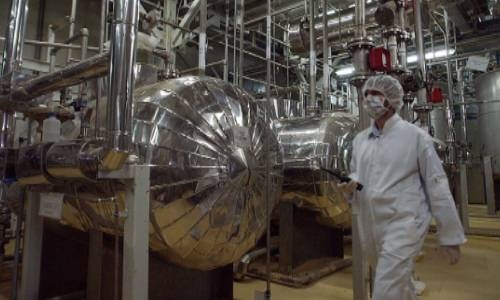 GCC ambassadors and US envoy alarmed over dangers of Iran nuclear programme
Agencies | London
The Daily Tribune – www.newsofbahrain.com
Gulf ambassadors met with US envoy to Iran Robert Malley yesterday where they reiterated security concerns regarding the Iranian nuclear programme.
Ambassadors of the Gulf Cooperation Council (GCC) states and permanent representatives to international organisations in Vienna met Malley on the sidelines of international negotiations to revive a 2015 Iran nuclear deal, which resumed last week in the Austrian capital.
During the meeting, which was hosted by Saudi Arabia's ambassador to Vienna, Malley and GCC ambassadors reviewed the latest developments in the talks.
"We called attention to our concern regarding Iran's continuous efforts toward destabilisation of regional security through its support of terrorist militias," Ambassador Prince Abdullah bin Khalid bin Sultan said in a tweet following the meeting.
Negotiations to salvage the nuclear deal resumed in late November after they were suspended in June as Iran elected a new, ultraconservative government.
The 2015 deal — agreed by Iran, the US, China, Russia, Britain, France and Germany — offered Tehran sanctions relief in exchange for curbs on its nuclear programme.
But then-US president Donald Trump unilaterally withdrew the US in 2018 and reimposed biting sanctions, prompting Tehran to begin rolling back on its commitments.
Iran loses vote at UN over unpaid dues
Eight countries that include Iran, Venezuela and Sudan have lost their right to vote at the United Nations because of unpaid dues. A total of 11 countries are behind in their payments, Secretary General Antonio Guterres said in a letter to the General Assembly.
Under the UN charter, a member country's right to vote is suspended when its arrears equal or exceed the amount of dues it should have paid over the preceding two years.
If the outstanding debt is deemed to be "due to conditions beyond the control of the member," the assembly may let that country continue to vote.