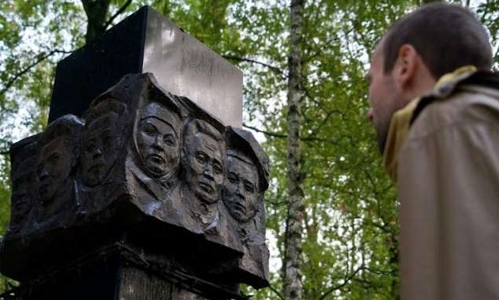 Russia uses Nazi photos to find Stalin-era mass graves
A team of Russian historians and archaeologists have used a Nazi bomber pilot's photograph to help them pinpoint the location of mass graves in Moscow containing the remains of thousands shot by Stalin's secret police. The existence of a mass grave in the Kommunarka district in southwestern Moscow first came to light in the dying days of the Soviet Union when the KGB opened up its archives. It was one of three killing fields in the city used by Stalin's NKVD secret police in the 1930s. Historians believe at least 6,609 people were shot and thrown into mass graves in Kommunarka between 1937 and 1941.
The gated forested area was once used by NKVD chief Genrikh Yagoda, who had a holiday cottage there. But he fell foul of the regime and was removed from his post in 1936 and shot in 1938 -- with his body most likely also disposed of in Kommunarka. Until recently, the mass graves were believed to be located in one area of the forest, where victims' relatives put up a memorial. But historians now believe the graves' location was misidentified. An aerial shot of Kommunarka taken by a Nazi pilot flying over Moscow in 1942 -- when the graves were "fresh" -- was key to the investigation.
Crucially, it showed the height of the trees in the area at the time. Historians came to the conclusion that some of the trees had been planted over fresh graves -- a tactic often used by the NKVD to cover up its executions. The next step, Romanov said, is to identify in which specific pits the bodies of victims were placed. "In a small one there could be 30 people and in another there could be 100 -- we want to know who is buried where."