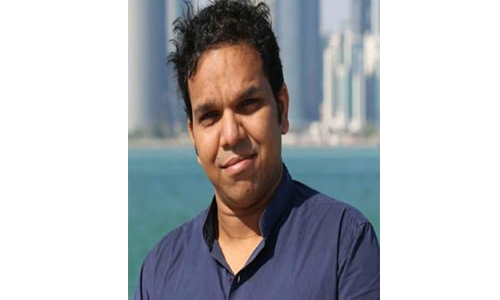 India's opportunity in the new post COVID global order
The Daily Tribune – www.newsofbahrain.com
One and a half years ago, when the COVID-19 pandemic disrupted the world, little did we know that a virus invisible to the naked eye would result in the emergence of a new global order. With China coming under the scanner for the lab-leak of the virus, the world's factory nation is increasingly being held responsible for the massive damage caused to lives and livelihoods across the globe. The global superpower, the USA, after removing Donald Trump as their President, is finding itself in an ever-increasing conflict within its society with two equal and aggressively opposing factions clashing. European Union is a badly damaged economy, with rifts between nations on whether to stay together or look out for individual interests.
Till the end of 2020, China's share in global trade was 15%. The USA stood second at 11.5% and India stood less than 2%. But things are now rapidly changing. Nations are wary of doing business with the Chinese Dragon and increasingly nations are exploring a new way of global business, production and politics. Western powers are keenly exploring alternative partners in Asia to replace China. This is an opportunity for India to emerge as the Global Leader, the Vishwa Guru it has strived and espoused to be.
India has shown its strong resolve to innovate in dire situations. India is amongst the only five nations, standing with the USA, UK, Russia and China to develop a working COVID vaccine. Go back a year, when the first lockdown started in March of 2020. Back then, we did not have local manufacturing capacity for our PPE and masks requirements - and were searching the world to import them. That India transformed itself, saw through a difficult journey of the first and second wave, but yet managed to pull its weight from being a mask importer to largest vaccine exporter supplying to 85 countries. In 1991, when India liberalized its economy India and China were almost at the same position in terms of GDP. China zoomed past us purely based on low-cost production, often at the cost of exploitative labour laws.
Intoxicated by cheap consumer goods, the world ignored the perils of this aggressive growth model of China. But COVID-19 taught the world a lesson - poor ethics and injustice can never bring sustainable growth. The emerging global economy will need beyond just cost competitiveness. It would be based on trust and humanity. India stands a solid chance to be the Asia powerhouse in this new sunrise and many factors support our case. First, our democratic model of a people-centric approach and open criticism is a beacon of transparency. Indian laws and their implementation are open for scrutiny, we have never had nefarious dreams of biological superweapons. Our free and fair elections are far more reliable than the single-party system of China which crushes opposition using brute force. Second, our educated and technological trained youth are a backbone for building the new world economy.
Today, every sector which needs to be rebuilt across the world can use Indian youth to do this. Third, we are a consumer powerhouse. No multinational company can afford to lose the market our middle-class offers. We have the opportunity to use this strength to negotiate that our local enterprises learn from the global giants, collaborate with them and capture wider markets in the next decade. But if we need to truly emerge as a "vishwaguru" there are key areas that need to be addressed. We need to revisit our rural development model. 600,000 villages of India are not an economic burden but a powerhouse waiting to be explored. They are a pool of opportunity and a huge consumer market. FMCG and automobiles make nearly 45% of their sales in rural India.
In a new India where electricity and the internet are reaching our villages, we need to look at rural India beyond just agriculture. They can be sites for advanced industries, technological research and healthcare centres. The government of Uttar Pradesh started the One-District-One-Product (ODOP) to create a targeted industry in each district based on local competency. Apart from providing training to the local artisans, it has also aided in local employment generation. In three years since its inception, ODOP has enrolled about 80,000 artisans from across the state. The products are once forgotten like terracotta of Gorakhpur, chikankari of Lucknow and Kala Namak rice of Siddharthnagar are now in great demand in countries like Britain, Germany, US and South Asian Region.
In fact, this has resulted in an increase in the state's export by 32% since its ODOP's induction. Ideas such as these, need industrial backing and wider application. Then, we need to infuse capital into the ideas and energy of our youth. I have seen thousands of young minds with excellent ideas but searching years for small investments to support them. 80% of India's start-ups were launched by youth below 30 years of age – and most of our biggest new-age brands were started by very young founders. We need a robust mechanism to help such youth lead India's new-age economic growth. India has a long history with many major events and turning points. Our patriotic spirit has seen many causes fuelling our nationalism. Today, there is a need for Technology-Nationalism. In this 21st century nationalism, we need to teach our youth to follow the path of compassionate technology to serve the motherland.
Many doubt that can India achieve so much in so little time? The good news is that history shows us that global order does not take too long to alter its course. In 1995, China was a nobody in the global arena at 3% of global trade. Starting from there it took them only 2 decades to become the largest trade nation. India stands at an even better opportunity today, as the world looks for new Asian powerhouse trade partners in the post COVID era. We must not miss our chance.
The writer Srijan Pal Singh was the Advisor to the 11th President of India Dr APJ Abdul Kalam and is a best-selling author, scientist and policy analyst.