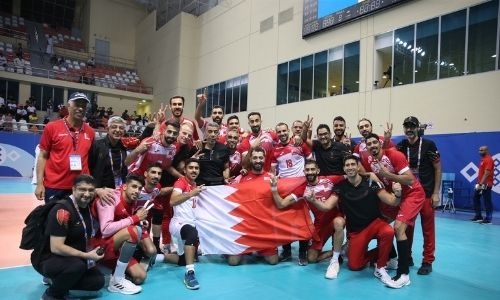 Bahrain spikers claim second successive victory
TDT | Manama
The Daily Tribune – www.newsofbahrain.com
Bahrain's senior men's national volleyball team won their second straight contest at the GCC Games yesterday, sweeping past the UAE 3-0 (25- 20, 25-19, 25-23). The Bahrainis started the match off strong and never wavered.
They closed out the match in just an hour-and-a-half, continuing from where they left off in their opening victory against Saudi Arabia, which they took in four sets. Ali Ebrahim was once again the national team's top scorer, finishing with 16 points, including 12 in attack. Naser Anan added 13 for the nationals, while Mohamed Aldwairi scored six. Aldwairi wa s Bahrain's best blocker with three, while Ebrahim had two service aces.
The Bahrainis made the most of their opponents' errors in the game, which amounted to 20, while they committed only 17. Today is a rest day for the men's volleyball tournament and Bahrain return to the playing court tomorrow against Oman at 3pm, Bahrain time. They then face off with Qatar on Tuesday at 5pm, before playing their last game against hosts Kuwait on Thursday which will also determine the final order of medallists. Narrow miss Meanwhile, also yesterday at the GCC Games, Bahrain's cyclists came close to capturing a medal in the women's individual time trial.
Mariam Almoayyed and May Alhaji were competing for Bahrain in the event, and they finished fifth and sixth, respectively. Mariam completed her ride in 20 minutes 17.05 seconds, 40.74 seconds behind gold -medallist Safia Alsayagh from the UAE. May took sixth in 20:30.81. A total of 10 riders took part in the event, representing the UAE, Saudi, Qatar and hosts Kuwait.