Bahrain add shooting, cycling medals
TDT | Manama
The Daily Tribune – www.newsofbahrain.com
Bahrain captured three more medals yesterday as action continued in the third edition of the GCC Games in Kuwait.
Bahrain's shooters won a silver and bronze medal, while the men's cycling team claimed a bronze. Their achievements brought the nationals' medal tally at the Games to 43, with 17 gold medals, 16 silver and 10 bronze. Bahrain, however, dropped to second on the six-nation medal table behind hosts Kuwait, who have 56 total medals including 21 gold, 17 silver and 18 bronze.
In yesterday's shooting events, Bahrain's shooters made it to the gold medal match in the men's 25m rapid fire pistol teams competition. But there, they lost to gold-medallist Oman 8-16.
The Kingdom's shooters then also took a bronze medal in the men's 10m air rifle teams. They defeated Saudi Arabia 17-13. In cycling, Bahrain's men's squad captured the team time trial bronze medal after completing the event in 50 minutes 50.34 seconds.
They were more than a minute behind gold-medallists UAE, while Kuwait took the silver medals.
Winning start
Meanwhile, Bahrain's senior men's volleyball team claimed a winning start in their tournament at the GCC Games yesterday.
They battled back from a set down to defeat Saudi Arabia 3-1 (20-25, 25-13, 25-23, 25-13). Ali Ebrahim and Nasser Anan were the Bahrainis' top scorers in the match, each coming away with 14 points.
Ali Alsairaifi added 12 markers, while Mohamed Abdulla scored 10. Bahrain will be looking to continue their winning ways when they take on the UAE in their second fixture this evening, scheduled for a 5pm start.
They are then back in action on Monday against Oman, which will be their final game. Also yesterday, the Kingdom's national futsal team were triumphant. They came away with a hard-earned 2-0 win over Oman.
Both the Bahrainis' goals were scored in the second half. Ali Alwani fired in their opener in the 32nd minute, while Salman Muhammad found the net just a minute later. Both Alwani and Muhammad scored their first goals of the tournament for Bahrain. Bahrain's next match in the men's futsal tournament will be tomorrow against hosts Kuwait.
Bahrain's men's cycling team show off their bronze medals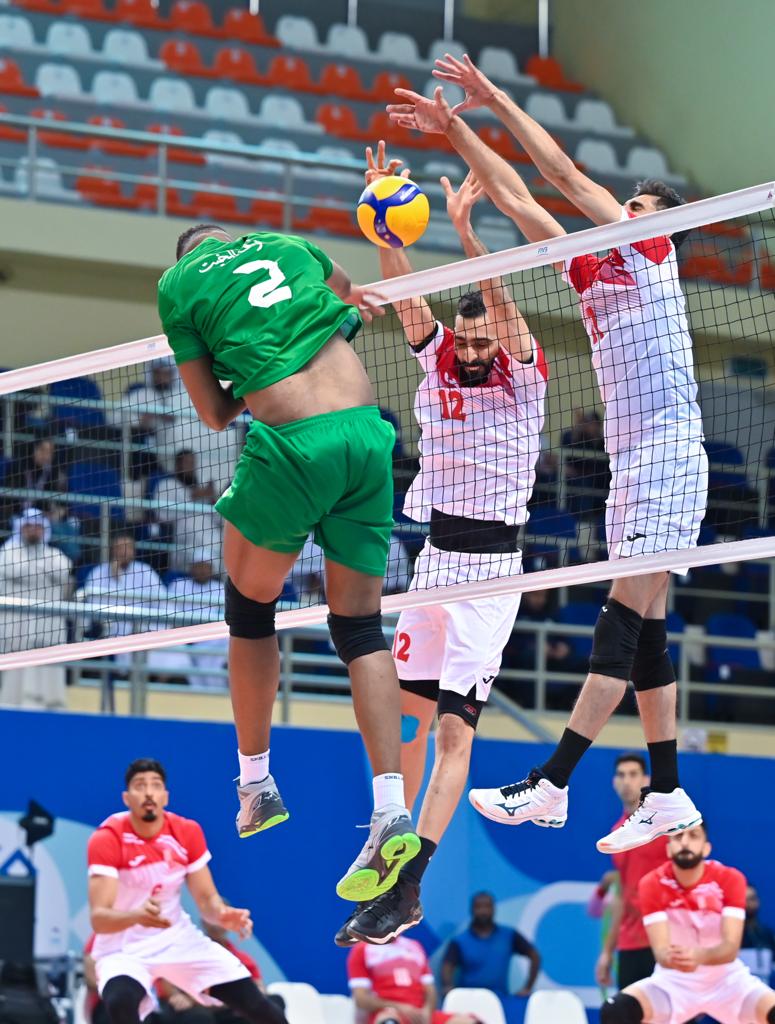 Bahrain go for a double block during their match against Saudi Arabia last night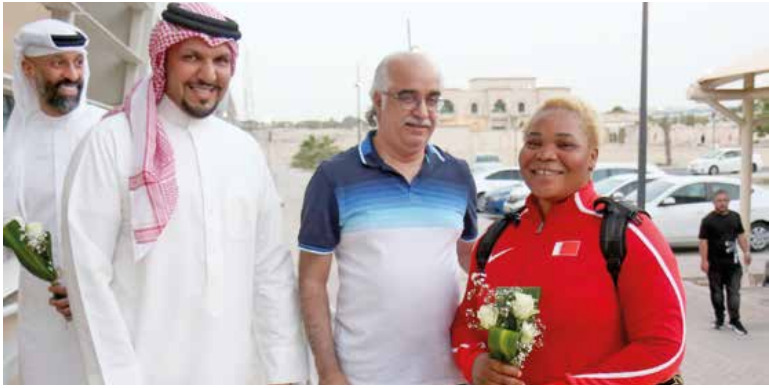 Members of Bahrain's national athletics team, who won 17 gold medals at the GCC Games, returned to the Kingdom yesterday and were received upon their arrival by officials from the Bahrain Olympic Committee and the Bahrain Athletics Association