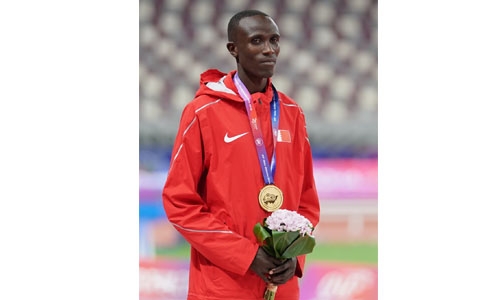 Koech begins Bahrain's athletics medal bid in Steeplechase
TDT | Manama
The Daily Tribune – www.newsofbahrain.com
Bahrain's star-studded athletics team at the Tokyo Olympic Games kick off their bid for medals today with John Koech in the Men's 3,000m Steeplechase. Koech will be running in the first of three heats at Tokyo's Olympic Stadium. He is one of 15 athletes entered in the race and will need to finish in the top three or be at least one of the six fastest losers in order to advance to the final.
The 25-year-old Bahraini heads into his event with a season's best time of eight minutes 45.75 seconds, which is far from his personal best of 8:09.62. Lamecha Girma of Ethiopia has the best time this year amongst the heat's competitors of 8:07.75 and he also has the fastest individual mark of 8:01.36.
Koech's heat is scheduled for a 3.30 am starts, Bahrain time. He is one of a 13-member athletes team flying the Kingdom's flag in Tokyo. The other men are Abdelrahman Mahmoud in the Shot Put, Al Siddique Mikho in the 1,500m, Dawit Fikadu and Birhanu Balew in the 5,000m, and the trio of Elhassan Elabbasi, Alemu Bekele and Shumi Dechasa are in the Marathon, all of whom are set to be in action on later days.
The five women competing at the Olympics for Bahrain are Aminat Jamal in 400m Hurdles, Winfred Yavi in the 3,000m Steeplechase, Kalkidan Gezahegne in the 10,000m, and the pair of Eunice Chebichii Chumba and Tejitu Daba in the Marathon.
Meanwhile, Bahrain Olympic Committee (BOC) vice-president and delegation head in Tokyo His Highness Shaikh Isa bin Ali bin Khalifa Al Khalifa met yesterday with members of the Kingdom's athletics team. A number of the participating athletes and officials were on hand, as well as BOC secretary-general and Bahrain delegation deputy head in Tokyo Mohammed Al Nusuf.
HH Shaikh Isa conveyed the greetings of Supreme Council for Youth and Sports first deputy chairman, General Sports Authority president and BOC president His Highness Shaikh Khalid bin Hamad Al Khalifa to the athletics team, and added that they are a source of pride for all they have achieved at all levels in the sport.
Athletics is where Bahrain is most hopeful of clinching an Olympic medal this year. The Kingdom has claimed three Olympic medals in the past, including two gold and one silver—all in athletics.
The gold medals were captured by Maryam Yusuf Jamal at the London Olympics in 2012 for the Women's 1,5000m and Ruth Jebet at the Rio de Janeiro Olympics in 2016 for the Women's 3,000m Steeplechase. That same year, Eunice Kirwa claimed the Women's Marathon silver medal.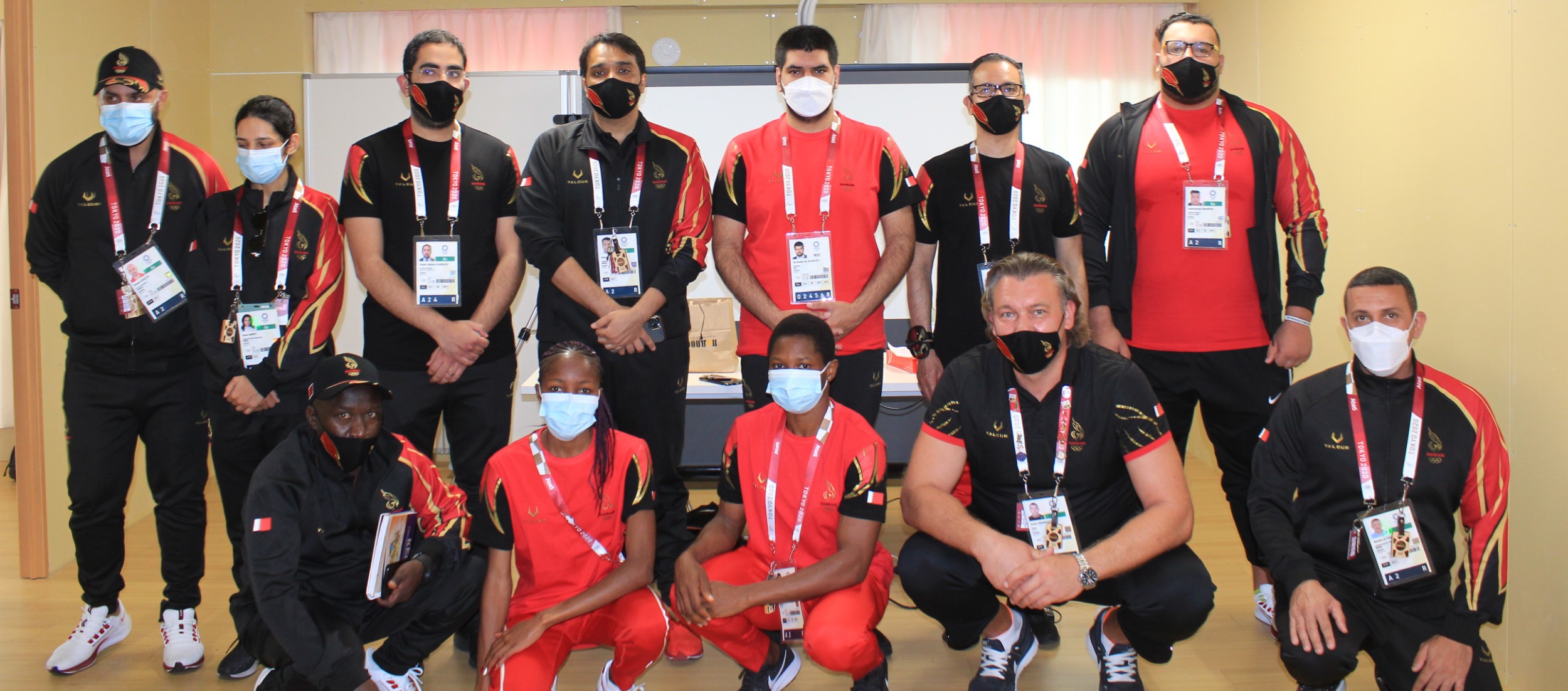 HH Shaikh Isa bin Ali bin Khalifa Al Khalifa, standing third from right, with athletics team athletes and officials during their meeting yesterday