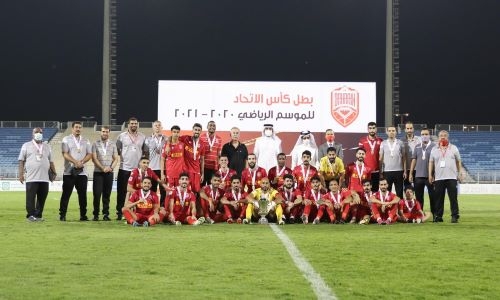 TDT | Manama
The Daily Tribune – www.newsofbahrain.com
Bahrain international striker Ismaeel Abdullatif fired in a late winning goal last night to help Muharraq clinch the 2020/2021 Bahrain Football Association (BFA) Cup.
Abdullatif's winner lifted the victors to a 2-1 decision over East Riffa in the tournament final, played at the Khalifa Sports City Stadium in Isa Town. As the result, Muharraq claimed their fourth BFA Cup title.
They have presented the glittering trophy by BFA president Shaikh Ali bin Khalifa Al Khalifa in an awarding ceremony attended by other BFA officials. Muharraq captain Sayed Mohammed Jaffar received the trophy on the team's behalf.
Muharraq went ahead in the first quarter-hour of the match following an own goal from East Riffa defender Abdulla Al Hazza. Al Hazza sent a back pass to goalkeeper Hamad Al Doseri, who slipped right before receiving the ball and allowing it to find its way into the net.
The 15th-minute gaffe was enough to give Muharraq the single-goal advantage heading into the half.
After the interval, East Riffa was able to equalise in the 71st minute through Sami Al Hossaini. The crafty playmaker was on the receiving end of a short pass from the left of the box from teammate Laith Hashim Mohammed.
Al Hossaini was perfectly positioned in front of the goal, and he sent the ball home with a clever tap on his heel. East Riffa's celebrations were short-lived, however, as only seven minutes on, Muharraq were able to find the winner.
After taking possession on the outside edge of the box, Abdullatif hit a powerful turning shot that was too strong for Al Doseri to control. And despite getting both hands on the ball, he could not control it enough to prevent it from going into the goal.