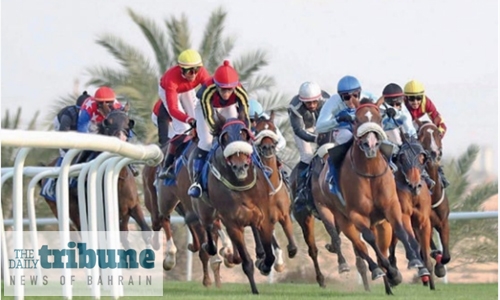 New Show triumphs in feature race
New Show clinched the Aluminium Bahrain (Alba) Cup yesterday in the feature race of the day at Rashid Equestrian and Horseracing Club (REHC) in Riffa. Owned by Victorious, trained by Hesham Al Haddad and ridden by Adrie De Vries, New Show made a late charge to claim the narrowest of victories.
The 89-rated four-year-old completed the 12-furlong event in two minutes 32.109 seconds, securing the lion's share of the BD5,000 total prize. The hotly contested race for imported horses was one of the most exciting yesterday at REHC. In attendance enjoying all the action and awarding some of the day's winners was Deputy Chairman of the High Committee at REHC, His Highness Shaikh Isa bin Salman bin Hamad Al Khalifa, along with several other high-ranking officials.
HH Shaikh Isa watched as New Show won by two lengths ahead of top challenger Rustang, owned by Al Adiyat Racing, trained by Alan Smith and ridden by James Doyle. In third place was Port Douglas for Al Hassanain Syndicate, Mohamed Al Sammak and Abdulla Faisal.
A total of six horses competed in the event. Pressure Point was fourth for Al Mohamediya Racing, Nigel came fifth for Victorious and Lugano was sixth for Al Mallah Syndicate. In the day's sixth race, also for an Alba Cup, Thorkhill Star won for Al Adiyat Racing, Alan Smith and James Doyle. Thorkhill Star completed the eight-furlong race carrying a BD5,000 total prize in 1:36.540.
Trailing behind by just one-anda-quarter-lengths was Austin Powers, owned by Ramadhan Stable, trained by Jaber Ramadhan and ridden by Robert Tart; while taking third was Baltic Knight for Al Afoo Racing Stable, Mohammed Saeed and Lee Newman. Finishing fourth and fifth, respectively, were Balestra and Laidback Romeo. Meanwhile, Pulsar won the Alba Cup in the first race of the day while Regular did the same in the fourth race.
In the 11-furlong first race for local horses, Pulsar triumphed for Abdulla Fawzi Nass, Hesham Al Haddad and Ali Moosa in 2:22.412. Antar was second for Haitham Salah Abdullatef, Ebrahim Nader and A Kuwaiti; while taking third was Al Aghar for Feras Awn Hasan Mubarak, Awn Mubarak and Hasan Al Mawali. In the five-furlong fourth race for imported horses, Regular took first place in 59.031 seconds.
Regular is owned by Al Mohamediya Racing, trained by Osama Hashim and ridden by Osama Hashim. In second place was Don Armado for Al Afoo Racing Stable, Mohammed Saeed and Lee Newman; while in third was World Order for Al Mohamediya Racing, Jaber Ramadhan and Robert Tart. Meanwhile, the third race of the day for the Al Raffa Cup held over five furlongs was claimed by Krayaan 1706, owned by Victorious, trained by Yousif Taher and ridden by Anas Al Siyabi.
Kuheilan Umm Zorayr 1766 and Tuwaisaan 1762 were second and third, respectively. Elsewhere on the day, Pulp Fiction won the six-furlong second race for local breeds with a total prize of BD2,000; and Waridat claimed the eight-furlong fifth race with a prize of BD2,000.