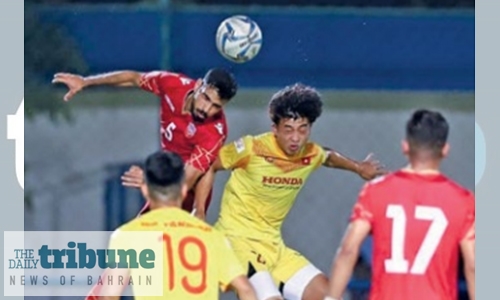 Olympic football team defeat Vietnamese counterparts in friendly
Bahrain's under-23 Olympic football team scored a hard-earned 2-1 victory over their counterparts from Vietnam yesterday in a friendly match played in Bangkok. The tune-up was part of both teams' preparations for the 2020 AFC U-23 Championship, which is scheduled to kick off on Wednesday in Thailand.
On target for Bahrain in the match were Ahmed Saleh and Abdulrahman Al Ahmadi. The friendly was the first for Bahrain as part of their final preparations for the upcoming competition.
Bahrain are making their debut in the prestigious Asian Football Confederation (AFC) event, which also acts as the Asian qualifiers for next year's Tokyo Olympics. The top three teams will book a seat at the Games.
A total of 16 teams are taking part. Bahrain booked their tickets in the event after winning their qualification group. The Bahrainis play in Group A of the preliminary round, where they will be facing Australia, Iraq and hosts Thailand.
The Olympic team open their campaign against the Thais on January 8, and then play Iraq on January 11 before closing out their group campaign against Australia on January 14.
Bahrain must finish in the top two to advance to the quarter-finals. Bahrain are in Thailand with a 23-player squad that includes Saleh, Al Ahmadi, Faisal Ibrahim, Hamza Al Jabn, Hassan Alkarani, Ahmed Sherooqi, Hussain Jameel, Mohammed Hardan, Abdulaziz Khalid, Adnan Fawaz, Mohammed Marhoon, Hamad Shamsan, Sayed Hashem Isa, Hassan Madan, Ahmed Fadel, Abbas Alasfoor, Sayed Mohammed Ameen, Jassim Khleef, Yousef Habib, Ahmed Bughammar, Anwar Ahmed, Salem Adel and Ammar Mohammed.