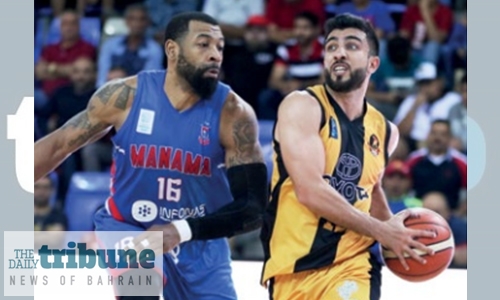 Al Ahli made a statement last night in a resounding 95-86 victory over Manama in their Top Six Division clash in the Zain Bahrain Basketball League. Ahli showed why they must be regarded as a force to be reckoned with as the season reaches its most crucial stages by defeating one of their most heated rivals at the Khalifa Sports City arena in Isa Town.
American professional Dexter Pittman, a former NBA player with the Miami Heat, Memphis Grizzlies and Atlanta Hawks and 2012 NBA champion with Miami, spearheaded the victors with a monster 34-point, 17-rebound effort. The result earned Ahli their third win in four games, and both teams are now tied on the Top Six standings with Ahli handing Manama their first defeat.
Action in the same division continues tonight with two games on the cards. At 5.45pm, Al Hala take on Al Najma followed at 7.30pm by defending champions Muharraq facing off with Riffa. In Ahli's win, the Zinj-based club came bursting out of the gate and took a quick 27-16 lead with three minutes to go in the first quarter.
But Manama eventually got into their groove and managed to get to within five, 24-29, at the end of the period. Ahli maintained their fine form in the second and enjoyed a slim 51-45 lead at the half. In the final two quarters, things remained close but starting the fourth Ahli were able to stretch their lead once more to double-digits, 85-74, on a Pittman lay-up with three minutes to play in the game.
Manama tried valiantly to mount a late comeback as the minutes winded down, but Ahli had all the right answers in the end as they allowed them no closer than five points the rest of the way. Ahli's backcourt tandem of Hesham Sarhan and Maytham Jameel combined for 38 points in the win. Sarhan had 23 and five assists, while Jameel had 15, including three three-pointers, to go with six assists.
Skipper Mohammed Qurban added eight points, five rebounds and seven assists while Hasan Ali Alsayed contributed nine points and seven rebounds off the bench. For Manama, substitute big man Mohammed Ameer had 22 points to pace his team in the loss.
US import Christopher McKnight had 13 on just four-for-11, while team captain Mohammed Hussain had 18, including four triples. Former Ahli superstar Hussain Shaker added 11 off the bench to go with five assists.