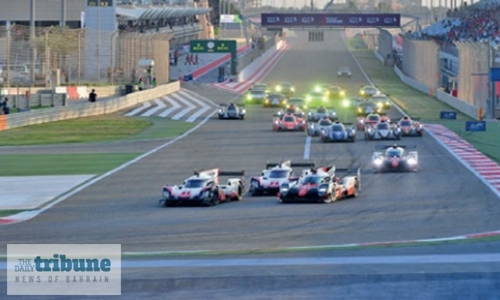 Bahrain International Circuit (BIC) begins its final 10-day for the highly anticipated return of the FIA World Endurance Championship (WEC), which will be taking place for the first time ever together with the BIC National Day Festival. The four-day extravaganza is scheduled to take place December 13 to 16 at "The Home of Motorsport in the Middle East", and it will be the biggest event held at BIC outside of the Formula 1 Gulf Air Bahrain Grand Prix.
The WEC returns with the Bapco 8 Hours of Bahrain, extended from the six-hour race held at BIC in the past. Both WEC and National Day will be open to the public from December 13, with WEC running for two days and the National Day celebrations offering four days of continuous entertainment, concluding on December 16. Tickets are just BD1 per person per day and can be purchased online at BIC's official website www.bahraingp.com, by calling the BIC Hotline on +973- 17450000 or at the BIC stand at City Centre Bahrain. The Bapco 8 Hours of Bahrain marks the fourth round of the 2019/2020 FIA WEC season.
The gruelling eight-hour event makes it the second-longest race on the WEC calendar, behind only the legendary 24 Hours of Le Mans. Just as in previous seasons, there will be competition in four categories, comprising the Le Mans Prototype 1 (LMP1), LMP2, Le Mans Grand Touring Endurance (LMGTE) Pro and the LMGTE Amateur classes. Among the leading sports prototype car brands to look forward to in the LMP classes are Toyota, Ginetta, Rebellion, Alpine, Oreca and Dallara.
The GT cars that are set to take to the track in the LMGTE classes include the Ferrari 488 GTE Evo, the Porsche 911 RSR-19 and the Aston Martin Vintage AMR. Motor racing fans attending the FIA WEC Bapco 8 Hours of Bahrain will be able to enjoy an Open Paddock experience, offering a behind the scenes spectacle of the race experience. All racing will be open to the public on 13 and 14 December, with the race set to get underway at 3pm on Saturday.
Aside from the WEC, there will also be racing in racing in two highly popular support series: the MRF Challenge single-seater championship from India and the BIC-based Porsche Sprint Challenge Middle East. Off the race track, the entertainment throughout the fourday festival will be highlighted by nightly concerts featuring some of the region's biggest names in music. They include star singers Balqees, Mohammed Al Salem, Essa Al Marzouq and Abdulla Al Rowaished.
There will also be the biggest fireworks display in the Kingdom of Bahrain, worldclass performing artists from around the globe such as The Black Angels acrobats, Spark! LED Drummers and Stannage International Stunt Team, plus carnival rides for kids, traditional music, food stalls and a shopping bazaar.