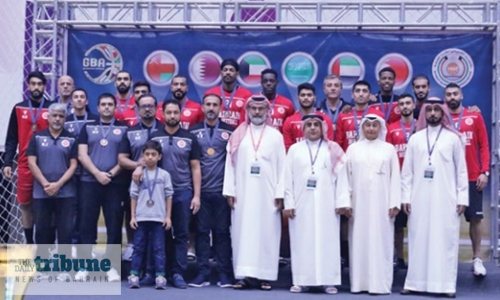 Bahrain win bronze in GBA event
Bahrain captured the bronze medals in the Gulf Basketball Association (GBA) Men's National Teams Championship 2019 last night following a well-deserved 76-67 victory over the UAE in the game for third place. The result ended a three-game losing streak in Kuwait City for the Bahrainis, who began the tournament with back-to-back wins before losing their next two games and then dropping out of title contention in the semi-finals.
Claiming the gold medals last night were Saudi Arabia, who disappointed the home fans after defeating hosts Kuwait 92-83 in the final. Following both games, the top three squads were presented their respective medals in an awarding ceremony attended by GBA officials. Bahrain claimed their first major accolade under recently signed head coach Darko Russo. The nationals had a strong start against the Emiratis yesterday.
They led 28-18 at the end of the first quarter but the Emiratis were able to narrow their deficit to 40-45 at the half. The Bahrainis turned things up once again in the third quarter to build a 63-53 lead heading into the final canto, where they did enough to keep a good gap ahead of their rivals. The Bahrainis led by as many as 14 in the fourth, which was also their biggest of the game, as the Emiratis struggled to mount a serious comeback in the final minutes.
Naturalised big man CJ Giles came up big for Bahrain. He scored 29 points and grabbed 15 rebounds but was ejected late in the contest for a second technical foul. Mohammed Buallay was the only other player to score in double figures, finishing with 12 and eight rebounds. Ahmed Aziz and Bader Abdulla Malabes both chipped in with eight points in the win, while Ahmed Ramadan had seven, skipper Mohammed Qurban finished with six, Subah Hussain four and Hesham Sarhan two points.
Mohamed Albreiki paced the UAE with 21 points, while captain Jassim Abdalla had 13 and Talal Alnuaimi 12. In the gold medal contest, Mathna Al Marwani led the Saudis with 25 points and seven rebounds, while Khalid Abdel Gabar nearly had a triple-double with 23 points, eight rebounds and seven assists. Seven-footer Mohammed Al Suwailem contributed 16 points and 12 rebounds. Abdullah Alshammari paced Kuwait with 18 points and 11 boards. Rashed Alrabah added 16 and Saleh Albrahim 15 in the loss.