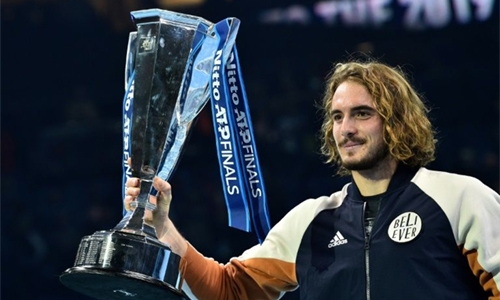 Tsitsipas win invites caution
Stefanos Tsitsipas said he was ready for a breakthrough Grand Slam victory after winning the ATP Finals in London -- but a glance at recent history invites caution. The 21-year- old Greek was in bullish mood after he beat Dominic Thiem, having ousted Roger Federer in the semi-finals, to become the season-ending event's youngest winner since 2001.
"I believe I'm really close to being crowned a Grand Slam champion," he said, after his 6-7 (6/8), 6-2, 7-6 (7/4) triumph in London on Sunday. "I know these are strong words that I say but I do feel I belong there." But although Tsitsipas's victory feels significant, he is the fourth first-time champion in as many years at the season finale, which has proved a poor predictor of future success.
Last year, young German Alexander Zverev pummelled Novak Djokovic in the final but he had a miserable time at this season's Slams -- while the Serb, 32, picked up the Australian Open and Wimbledon titles to take his overall tally to 16. Rafael Nadal, 33, won a barely credible 12th French Open title and added the US Open, underlining the fact that the old guard were still very much in charge.
No member of the "Big Three" -- also featuring Federer -- has won the season-ending ATP Finals since 2015, when Djokovic picked up his fifth title. Djokovic was also the last ATP Finals champion to go on to win a major title.