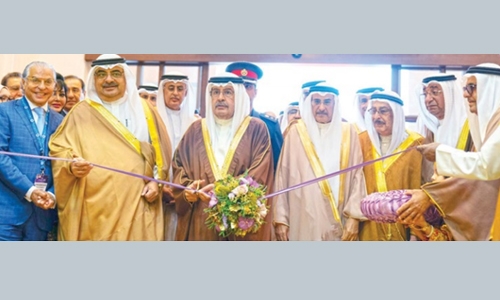 His Royal Highness Prime Minister Prince Khalifa bin Salman Al-Khalifa, delegated Deputy Prime Minister His Highness Shaikh Ali bin Khalifa Al Khalifa to inaugurate the Jewellery Arabia Exhibition 2019 at the Bahrain International Exhibition and Convention Centre (BIECC).
HH Shaikh Ali conveyed the greetings of HRH the Prime Minister to the exhibition organisers and all the participants, wishing the exhibition success to achieve its goals in boosting the jewellery industry in consolidation of the exhibition's prestigious reputation in this field. More than 561 exhibitors from 36 countries are taking part in the 28th edition which is considered one of the most important show for fine jewellery and luxury watches in the Middle East.
His Highness pointed out the diligence of HRH the Premier and his annual patronage of the Arabian jewellery show is one of the key events thanks to policy of His Royal Highness and his wise vision to develop the exhibitions and conferences industry and boosting its role as one of the important contributories in the national economy.
His Highness added that the Arabian jewellery exhibition has succeeded thanks to the patronage of His Royal Highness the Prime Minister in retaining its outstanding status and achievement of successive successes in wooing visitors, shoppers and stakeholders in the gold and jewellery industry from all countries in the region to view latest products on exhibit including jewelleries, luxurious watches, precious stones and artistic masterpieces, etc.
His Highness affirmed that the hosting of the Arabian Jewellery exhibitions in Bahrain over more than 28 years reflects the Kingdom's assets and competitiveness thanks to the facilitations and incentives provided by the Government presided by His Royal Highness the Prime Minister and boosting Bahrain's attractiveness as the most preferable destination for hosting various exhibitions and conferences.
The five-day exhibition, runs until Saturday and showcases wide collections of luxurious jewellery and high-end watches, in addition to precious stones and gems, and luxury accessories. His Highness Shaikh Ali bin Khalifa Al Khalifa the Deputy Prime Minister then toured the exhibition pavilions where he viewed the fine exhibited products from various elegant brands and trademarks.
His Highness expressed his admiration of the outstanding innovative and valuable products that embody the international quality of the companies in the gold and jewellery industry. His Highness lauded the exhibiters volume of contribution and the increasingly growing public attendance which confirms the status of the Arabian jewellery show considered one of the ancient and key specialised exhibitions in the region.