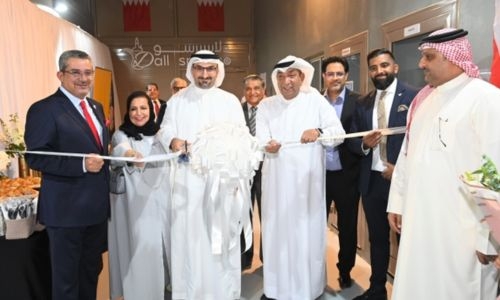 Industry Minister inaugurates "Dallaspresso" manufacturing facility in Bahrain
TDT | Manama
The Daily Tribune – www.newsofbahrain.com
Abdulla bin Adel Fakhro, Minister of Industry and Commerce, affirmed that supporting national industries and encouraging the competitiveness of the national product reflects the diversification and sustainability of the national economy, and the visions of the industrial sector strategy (2022-2026) to increase the industrial sector's contribution to the GDP, and exports of national origin, achieving sustainable development, and providing new opportunities for investment and export.
The minister spoke during the opening of the Dallaspresso manufacturing facility by the Minister of Industry and Commerce in the presence of Sameer Abdullah Nass, BCCI Chairman.
The Minister was briefed on all stages of coffee and tea production, starting from processing, all the way to roasting and packaging. His Excellency listened to a detailed explanation of how the facility achieves high quality in its products, and its commitment to international health and safety standards.
Fakhro praised the initiatives of local industries, and the efforts of DallaSpresso in offering high quality local products, stressing the ministry's continues support for the local industry, and expanding its marketing scope to reach regional and global markets.
"We are pleased to open our newly expanded factory, which confirms our commitment to providing world-class products, and contribute to the development of the local industry. We look forward to meeting the increasing demand for our products locally and internationally and increasing our production capacity," Khalid Al-Amin, Chairman of Dallaspresso said.
Al Amin commended the efforts to strengthen partnerships between the government and private sector, praising the role of the Industry Ministry and Commerce, the Labor Fund "Tamkeen", the Economic Development Board "EDB", and the participating strategic investors, which enabled Dallaspresso to reach this point of achievement.
Dallaspresso was founded locally in 2016, led by Ali Mohsen, who presented the first product of Arabic and Turkish coffee capsules and local "Karak", in an attempt to keep up with the latest global trends in the world of coffee and tea with a local flavor.
Dallaspresso produces more than one million "Karak" capsules and coffee, and offers more than 21 different types, the products are exported to Saudi Arabia, UAE, Oman, and Jordan, in cooperation with Export Bahrain. Dallaspresso focuses on diversity and creativity in its products, targeting Gulf and international markets.