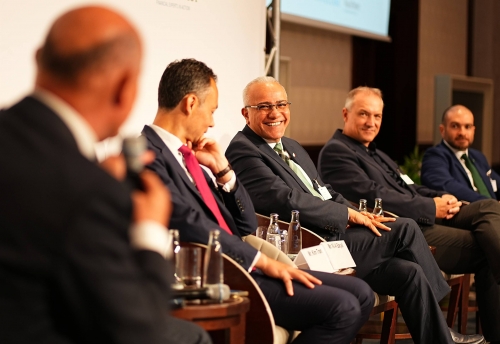 Alba chairman calls for action on ESG challenges for sustainable future
TDT | Manama
The Daily Tribune – www.newsofbahrain.com
Shaikh Daij bin Salman bin Daij Al Khalifa, the Chairman of Aluminium Bahrain (Alba)'s Board of Directors, has stressed the need to address ESG challenges to create a better future.
Speaking at the 26th Arab-German Business Forum held in Berlin, Germany, Shaikh Daij further called upon the participants to take responsibility and find solutions to the most urgent ESG issues of our time.
"The world is changing and as we gather here in this Forum, we should take on the responsibility for finding answers to the most pressing ESG challenges of our time to foster a better future for generations to come," stated Shaikh Daij.
During the Forum's Gala Dinner on Tuesday, Shaikh Daij, said, "With the world rapidly changing, it is our duty to tackle the pressing ESG challenges we face today, ensuring a brighter future for generations to come."
He further urged collective action "to meet our national targets to achieve the right balance between our economic gains and social returns." Highlighting Alba's commitment to reducing its carbon footprint and supporting Bahrain's "Net Zero Emissions by 2060" objectives, Shaikh Daij mentioned ongoing initiatives such as the Power Station 5 Block 4 Project and Solar Farm Projects.
These endeavours, he said, are expected to significantly decrease Alba's greenhouse gas intensity levels. Additionally, Alba is committed to planting 6,000 trees annually and aiding the restoration of mangrove forests in Bahrain.
Alba's delegation at the Forum included Ali Al Baqali, the Chief Executive Officer, who participated in a panel discussion on "Sustainability as a Success Factor & Global Challenge: How to maintain Sustainable Growth in Economies?"
on June 7, 2023. Al Baqali joined other industry leaders and experts in sharing insights and ideas on the topic. The Arab-German Business Forum, organised by the Arab-German Chamber of Commerce and Industry (Ghorfa), serves as a prominent platform for promoting business cooperation between German and Arab companies. The forum brings together business leaders, experts, and decision-makers, facilitating valuable discussions and collaborations.