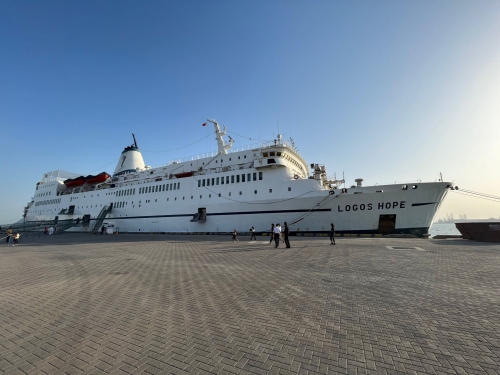 Hundreds flock to visit world's largest floating book fair Logos Hope at Khalifa bin Salman Port
TDT | Manama
The Daily Tribune – www.newsofbahrain.com
Reported by Julia Cassano
The first day of the world's largest floating book fair - Logos Hope - in Bahrain, was a huge hit, with hundreds of people queuing to board and explore the ship's thrilling attractions and books.
The Daily Tribune made a visit to the Khalifa bin Salman Port where the ship is docked and got a sense of the attraction. Visitors to the Logos Hope are required to ride a shuttle down to the ship after arriving at the port, allowing them to catch the beautiful essence of the port as well as an outstanding view of the Logos Hope pulling up to it!
The last time the Logos Hope docked in Bahrain was over ten years ago when it returned in 2013 from October 22 to November 4.
Meanwhile, book enthusiasts were certainly in great spirits as they waited at the ticket booths to get a glimpse of the ship's inside. After getting there, visitors were greeted by an exemplary international crew and a team of volunteers from about 60 nations who live and work aboard the ship.
They give up one or more years of their lives to serve the Logos Hope. Once inside, bookworms were greeted by a diverse range of genres spanning from nonfiction to science, sports, medicine, and languages.
There was definitely a book for everyone. Literacy and instructional literature were not difficult to find among the nearly 5,000 book titles on board.
Volunteers and ship staff indicated that the ship encourages reading and education, cross-cultural collaboration, and social awareness in the ports it visits, as well as reflecting God's love for all of humanity.
Furthermore, guests on board had the ability to witness a tour video depicting the "journey of life." Although the first day of landing in Bahrain was a success, people have until June 18 to visit the ship.
The entry fee is 500 fils, while children under the age of 12 may enter free. The store is open from 4 pm until 11 pm. The ship, however, will remain closed on Mondays.